We're working on ambitious plans for our estate and want to build a new hospital within our existing grounds in Farnworth, which would house maternity, neonatal, gynaecology and breast services.
In September 2021 we submitted our plans for the new hospital, which would be built adjacent to our current maternity unit. The new site will span more than 25,000 square metres and house just fewer than 200 beds.
Government officials will now assess each funding bid, with eight Trusts throughout the country expected to be successful. We will hear if we've been successful any day now.
Why do we need a new hospital?
The Victorians did us proud. The workhouse and other hospital buildings they created in 1861 have stood the test of time and are still being used by some departments and wards.  But Victorian needs are no longer ours: while we are still able to provide safe and effective care, this hospital isn't fit to last another generation. We want a new hospital!
Our population and their health needs in Bolton is growing, getting older and has more complex needs.
Health services need to be more integrated and delivered more according to patient need – closer to home or in a way that makes a visit more comfortable.
The estate is in need of significant repair, modernisation and upgrade. This is costly and takes too much time and it's simply not good enough to meet what our community needs in the future.
We are currently working with our partners iFM on an estates master plan for the whole site. It's a large site and we have big plans for it but are breaking this down into phases.
In phase one, we have made a bid to government for funding for a brand new building on the current Royal Bolton Hospital site that will incorporate:
Maternity
Neonatal
Gynaecology
Breast services including screening.
We are also scoping the inclusion of the following services within phase one:
Paediatric wards and children's ED
Day case surgery unit
Chemotherapy services
We've got some initial artist impressions but there's lots more to do on this. We have involved our doctors, nurses and health professionals in developing the design to make sure it best meets clinical needs.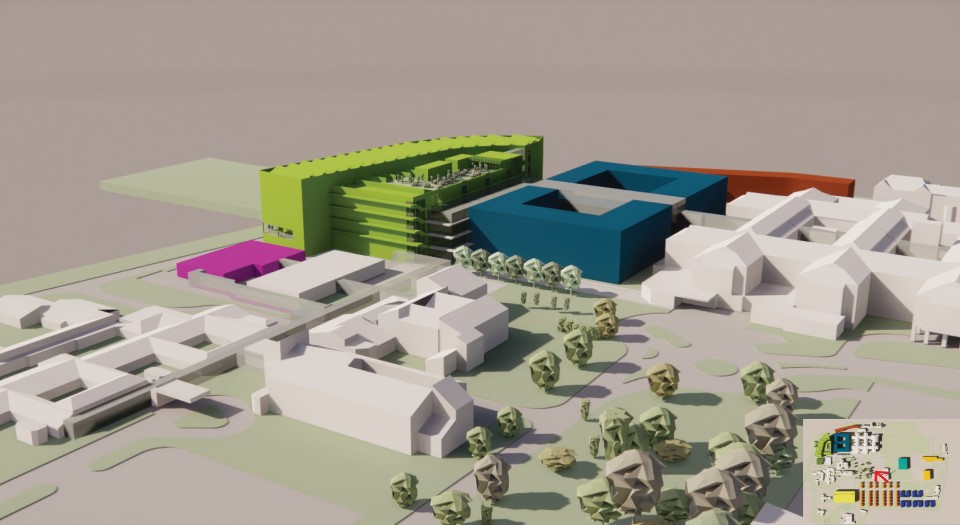 Our digital and estates specialists are involved to make sure the proposed design can deliver the best of current and future IT and improve our impact on the local environment.
Our new hospital will help deliver the best health and care
It will bring our services together in a way that lets us develop and deliver even more exceptional care
Our hospital and community services will be able to work together more effectively with a greater emphasis on helping people support their own health and wellbeing
Our new hospital will support new ways of working
Designed to embed the newest technologies in the fabric of the site to help develop future capabilities
Maximise space to make it more efficient to run, meaning precious resources can be focused on patient care
Our new hospital will be cost-effective, modern and inclusive
Will bring people together and connect organisations with communities in a beautiful sustainable environment
Designed to be inclusive to all our community needs. A place where everyone is welcome and no one is excluded
Clean, airy and comfortable inside; green useable landscape outside. A focus on modern but with concern not to lose the character of the hospital
Our strategic outline case was submitted to  government when they opened the funding window in September. We will hear if we've been successful any day now.
We know we have a long way to go but like the Victorians before us, we won't stop aspiring for more and we won't stop putting our community at the heart of our plans.
We won't stop planning for this until it happens. Phase one is the beginning of what will be our new hospital…for a better Bolton.
We'll keep you informed throughout the process, so that you know where our plans are up to and when there are opportunities to get involved and learn more.
You can continue to share your views and questions by emailing communications@boltonft.nhs.uk or by calling a member of the team on 01204 390446.