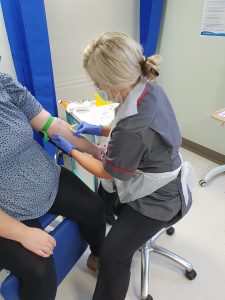 We're pleased to announce that our transfusion team have now introduced a new blood test which will be offered to all pregnant people with RhD negative blood type which could reduce unnecessary injections and clinic attendances.
The new free fetal DNA (ffDNA) test can determine the baby's RhD status by looking at the ffDNA in the maternal plasma. If a pregnant person with an RhD negative blood group has a baby with an RhD positive blood type, then problems can occur if the baby's blood enters the mother's bloodstream. The mother may produce antibodies against the RhD positive cells, known as anti-D antibodies, which attack the baby's red blood cells.
Current practice is to provide RhD negative people with an anti-D injection when they are 28 weeks pregnant to stop these antibodies from developing, and another after they're born if the baby is RhD positive. Performing this new test would mean that RhD negative women can avoid having the antenatal anti-D injection if they are carrying an RhD negative baby, which will apply to approximately 40% of RhD negative mothers.
Josephine McCullagh, Principal Clinical Scientist in the Blood Transfusion team, said:
We're really pleased to now be able to offer this test to all RhD negative women at Bolton. It is a very accurate and non-invasive test, and can reduce the need for anti-D injections.
The benefits of this new blood test during pregnancy are:
A reduction in unnecessary anti-D injections, which is a blood product and has its own risk.
A reduction in unnecessary blood tests and clinic attendance.
Less anti-D will be required so it will help to conserve stocks of this blood product.
Natasha Macdonald, Director of Midwifery, said:
This is great news for pregnant people and we're excited that this test is now available to our maternity patients.
If you're pregnant and want to find out more about this new test then please contact your midwife.