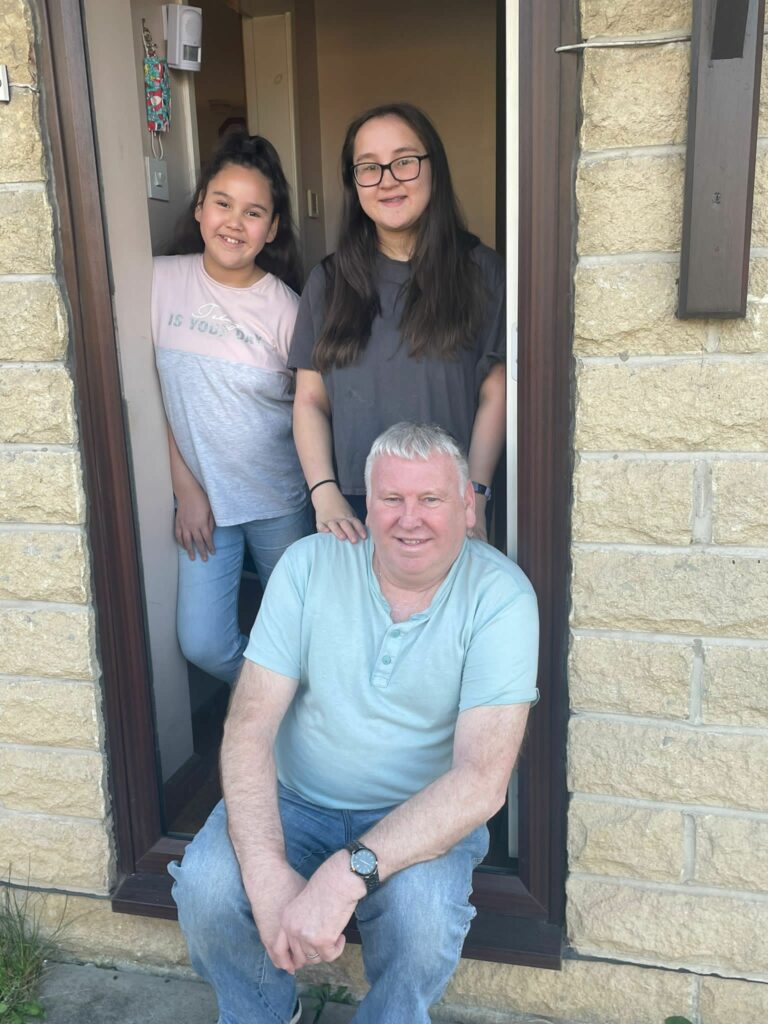 Health and care services in Bolton have come together to help some of the most seriously ill COVID-19 patients start their recovery and return home.
As the country marks two years since the UK was plunged into lockdown, the long-term impacts of the virus are still yet to be fully understood.
In late 2020, Mick Senior, his wife, and 15-year-old daughter all tested positive for COVID-19. Within days, Mick's condition deteriorated and he eventually needed to be admitted into Royal Bolton Hospital where he was placed into an induced coma.
Sadly, whilst Mick was in hospital his wife caught the virus and passed away at home. Staff at the hospital tried to bring Mick out of his coma but unfortunately, he suffered a stroke which meant he had to remain in hospital.
Mick remained in hospital for the next six months and despite being told several times that his wife had passed away, short term memory problems made it difficult for him to retain information for a long period.
It was during that time the wraparound support was put in place to help Mick on his long journey to recovery, starting with a team of physiotherapists on the hospital wards.
Daniel Street, Therapy Team Leader on the Acute Stroke Unit, explained:
The work that we did in the hospital was the start of his journey, a chapter in his recovery. Once we had achieved a level of independence on the ward, our goal was to get him home safely.

In this case it required a collaborative approach from ourselves in the hospital, but other services too.

Individual roles are important, but in a case as complex as Mick's it's essential we work together and understand that we each have a role that contributes to safely returning a patient home.
Getting Mick home
As a result of Mick's condition, his two children were initially sent to live with his eldest daughter.
To ease him back into home life, Children's Services arranged supervised visits with his daughters which allowed him the time to re-learn the basic skills he had lost due to his stroke whilst the Stroke Team provided rehabilitation support.
Melanie Charmer, an Occupational Therapist at the Trust who worked with Mick on his return home, said:
My initial phase of rehabilitation was getting Mick used to his home environment again.

Simple tasks that we take for granted became difficult for Mick due to the impact the stroke had on his cognition. We remained focused on preparing for his children returning home and practiced things like the school run.

We all worked together to get Mick's children home because that was his main goal throughout the whole process.

It's such a complex case involving a tragedy, but this demonstrates what can be achieved when services pull together and it's exactly the type of work we should be doing.
Dave Bagley, Chief Executive at Urban Outreach who helped the children with transportation, food supplies, as well as emotional support said:
All of these services, community, social care, and the stroke team, became family when family wasn't around.

The family were determined that they would come back to Bolton and would be together, so it's great to see that happen and see the girls back in the schools they loved.

This is the most amazing testament to real partnership working.
'The best possible outcome'
There were a number of challenges for the family when Mick's two daughters returned home full time.
Health and social care services worked collaboratively to help the family move forward by providing access to support with family budgets, meal planning and grief counselling.
Debbie Taylor, Community Assessment Officer in the Early Intervention Team at Bolton Council, said:
When I first began working with the family the children were making decisions which children shouldn't be making, like managing a budget and keeping on top of housework.

Mick had to learn new skills as a sole parent so it was imperative that all teams integrated and worked together to make it happen.

It streamlines services and you get the best possible outcome.
Now, thanks to the care Mick received, the young girls can focus on the things that interest them and Mick can feel confident that he will be able to look after and provide for his family.