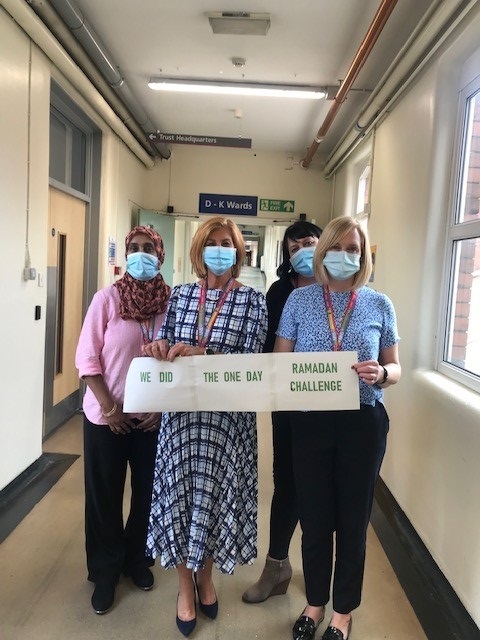 Three medical secretaries took on a day of fasting in support of their Muslim Bolton NHS Foundation Trust colleagues who are observing Ramadan.
In the general surgery department, Charlotte Russell, Stephanie Peet and Jan Horsefield took on the one-day fasting challenge in solidarity with their colleague Bibi Hack-Ghalib on Thursday 7 April.
The three medical secretaries talked about their experience and what they found challenging.
Stephanie said:
Initially I felt fine. As the day went on I started to get a headache and this was probably the most difficult part for me.

"I missed my regular water and coffee and I think it was a shock to my system.

"I now have the utmost respect for Bibi and any Muslims who continue to fast for the whole month of Ramadan.
Ramadan is the ninth month of the Islamic calendar, observed by Muslims worldwide as a month of fasting, prayer, reflection and community.
Charlotte added:
I found it quite alright to be honest. I did get a little hungry around 1pm but this went by. Therefore, I have agreed to fast for two days a week to support Bibi during her Ramadan.

"I really looked forward to my evening meal after fasting all day and probably enjoyed my food better.

"I thought I would have been tempted to eat during the day but I didn't and this made me proud of what I had achieved.
Muslims abstain from eating and drinking from dawn to sunset, which is almost 16 hours long this year.
Jan commented:
I must admit by 10am I really was craving a coffee and a snack, I tried not to think about it by keeping busy and away from the kettle and the fridge!

"Looking back, the day allowed me to reflect on self-discipline and gave me renewed gratitude for my family.

"It made me be aware of the less fortunate people who go without food; not by choice; and those who are wasteful of food; it truly was a day of reflection and awareness.

"I have a renewed respect for the Muslim community. Even though they must be tired, they still work to a high standard in the hospital providing excellent support to both patients and colleagues.
Bibi was very impressed and pleased by her colleagues' efforts and commitment to this challenge.
Bibi said:
I thought they were very brave to take it on being such long hours, I felt so happy that they did it to support me.

"I did give the ladies a certificate for their efforts, well done to them.