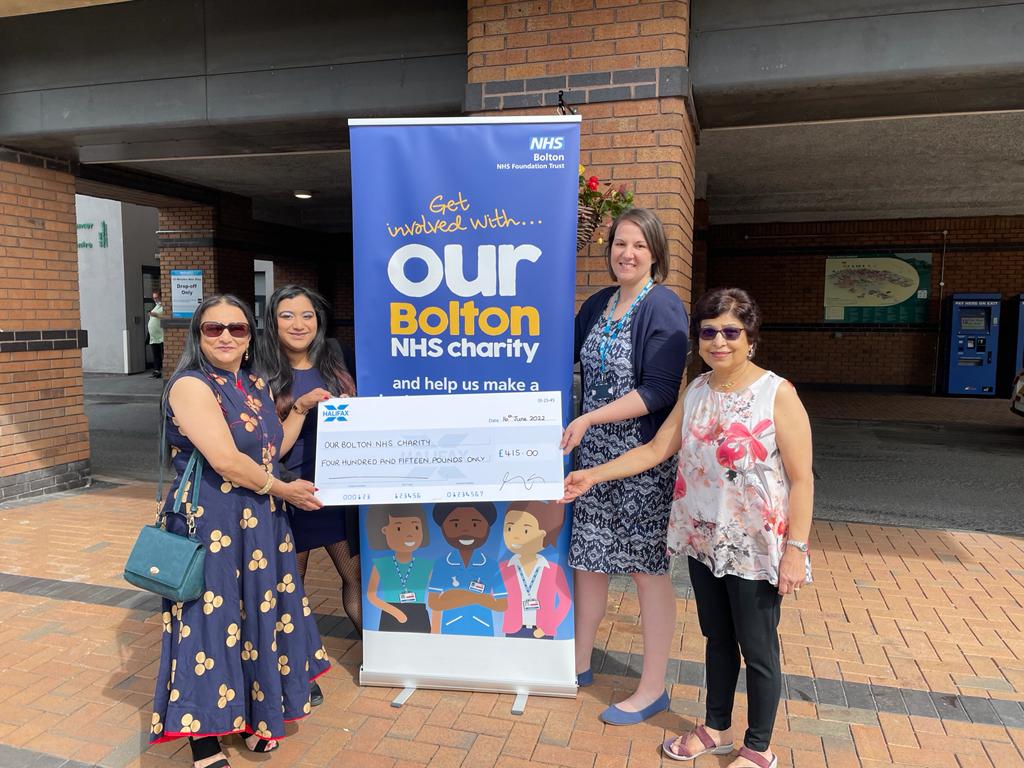 Tailor family raise £415 for Our Bolton NHS Charity
Total raised smashes target of £300

F

amily had helped make smocks for staff during pandemic
A Bolton family has helped their local community for the second time by raising money for Our Bolton NHS Charity.
Vina and Dee Tailor organised a fundraising evening of live music and Bollywood dancing to help raise funds for the charity.
The evening raised £415 which was gifted to Our Bolton NHS Charity as part of the charity's The Small Things campaign.
Vina had been inspired to organise the event during the Thursday night clap for carers but wanted to wait for restrictions to lift before putting wheels in motion, setting a target of raising £300 for Our Bolton NHS Charity.
Dee Tailor said: "The evening went really well, and was filled with food, singing and dancing."
This follows Indira helping to make scrubs for Bolton NHS Foundation Trust staff during the height of the COVID-19 pandemic.
Sarah Skinner, Charity Manager at Our Bolton NHS Charity, said: "We never take for granted the time and energy that is invested in organising a fundraising event and the support of those sponsoring or attending, especially during the cost of living crisis we find ourselves in.
"The beauty of The Small Things appeal is that it doesn't take thousands of pounds to bring smiles and joy to our patients and every pound helps to make a difference.
"We'd like to thank the Tailor family for their loyal support and we look forward to using the funds raised to enhance the experience of patients under the care of Bolton NHS Foundation Trust."
Thousands raised since campaign launched
Our Bolton NHS Charity's campaign The Small Things has raised more than £12,000 since its launch and funds have been used to provide or contribute towards:
Christmas presents for more than 900 patients
Bolton Neonatal Unit's first twin cot
Ramadan packs and Eid cards for patients are unable to observe and celebrate with family at home
Sensory and distraction toys for children admitted to hospital in mental health crisis
Craft supplies for orthopaedic/trauma patients living with dementia and other cognitive/sensory conditions
Medjool dates for Muslim colleagues to break their fast during the Share Ramadan event in April
Find out more about Our Bolton NHS Charity and how you can fundraise on their website.