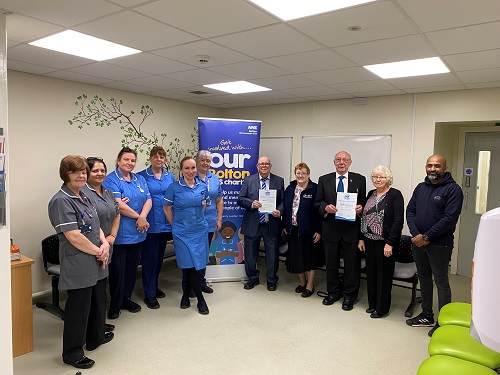 A patient and her husband who wanted to give something back has raised more than £1,500 for the Evergreen Suite at Royal Bolton Hospital.
Lilian Griffiths received treatment for breast cancer at the Evergreen Suite and was so overwhelmed with the level of care she received that she has fundraised £1,569.50 alongside her husband, Norman.
They decided that as part of Norman's 80th birthday celebrations they would reach out to their family, friends and neighbours to make donations towards the Evergreen Unit.
The couple have asked that the money raised be used to buy post-op bras for patients.
Lilian said: "The nurses and staff were wonderful and so kind to me when I received my treatment in February 2011."
It was a pleasure to raise money for the breast unit at Evergreen.
Norman added: "The staff went out of their way to make sure Lilian was comfortable and relaxed during her time there. We hope the money raised will help others who are undergoing treatment at Evergreen."
"Thank you to everyone who donated, especially the support from Rumworth & Hulton Conservative Club, our family and friends."
The pair have previously raised money to help others undergoing breast cancer treatment, raising £1,000 in the same way when Norman celebrated his 70th birthday.
Annette Trengove, Junior Sister at Bolton NHS Foundation Trust, said: "Thank you so much to Norman and Lilian for the support and their incredible generosity. This donation is going to make a big difference to us by providing more post-op bras for our patients and their recovery."
The specially-designed garments form a critical part of recovery from a mastectomy by providing support both physical and mentally.
The bra packs includes a featherweight temporary breast form to ensure softness and comfort as well as a light cotton bra. Staff at the Trust measure and fit the bras for each individual patient so that it's suited to their needs.
Abdul Goni, Charity Engagement Coordinator for Our Bolton NHS Charity said,"On behalf of Our Bolton NHS Charity and Bolton NHS Foundation Trust, we would like to say a big thank you to Norman and Lilian for their continued support and amazing fundraising efforts."