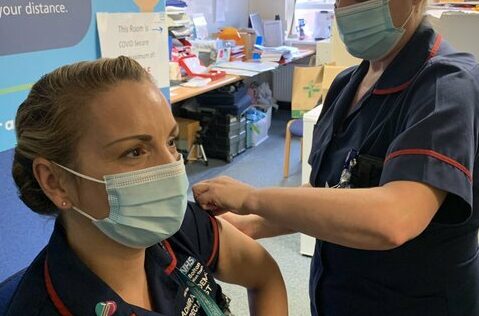 Doctors and medics from Bolton NHS Foundation Trust are issuing a stark warning about the impact of flu, as well as advice on how people can protect themselves and others.
Royal Bolton Hospital has recorded more than 770 flu cases since October 2022, and earlier this month saw 1 in 10 adult inpatients testing positive for the virus.
The figures are far higher than in the previous five years, and are a reminder about the impact flu is having on vital NHS services during the winter months.
Doctor Harni Bharaj, Consultant Physician and Deputy Medical Director, said the number of patients arriving at the hospital still hasn't returned to pre-pandemic levels:
On some days we are seeing 450 attendances to our Emergency Department, meaning we are continuing to experience really high numbers of arrivals, including by ambulance.

"In my experience this is one of the busiest winters we have seen in more than a decade as we continue to deal with the after effects of Covid-19 and the impact of flu. We're seeing more cases and in some instances it is more severe.

"We are doing everything we can to make sure our patients continue to receive the highest standards of care in such difficult circumstances by using tried and tested measures.
With more than 100 people in the hospital with flu and Covid-19, doctors are reminding people in Bolton about the importance of taking up vaccines to boost immunity this winter.
Doctor Rizwan Ahmed, Respiratory Consultant, commented:
Flu is a very infectious disease which can spread very easily, usually within the first few days of illness.

"If you feel that you are not well or that you have got flu symptoms please try to avoid public places. It's also helpful to avoid meeting up with people who are more vulnerable.

"You should try and sneeze into a tissue and regularly wash your hands with warm water and soap because the flu germs can stay on your hands and surfaces for up to twenty-four hours.

"One of the most important things we can all do is to get vaccinated against flu if you are eligible. Flu vaccines are very effective, they are safe, they prevent illness and the severity of it.
Royal Bolton Hospital's Emergency Department is always there for people who need life-saving care, but Dr Harni Bharaj is encouraging people to help staff manage demand by making sure they choose the most appropriate service.
Dr Bharaj said:
NHS 111 can easily be accessed both over the phone and online for people to find advice about the care they need.

"We are always here to help, but people can help us by only attending A&E if they are seriously ill or injured. This allows us make sure those services are free for those that need them most.
Details about waiting times for the Emergency Department can be found on our website.
To book a COVID or flu jab and find details on eligibility, please visit the NHS website.