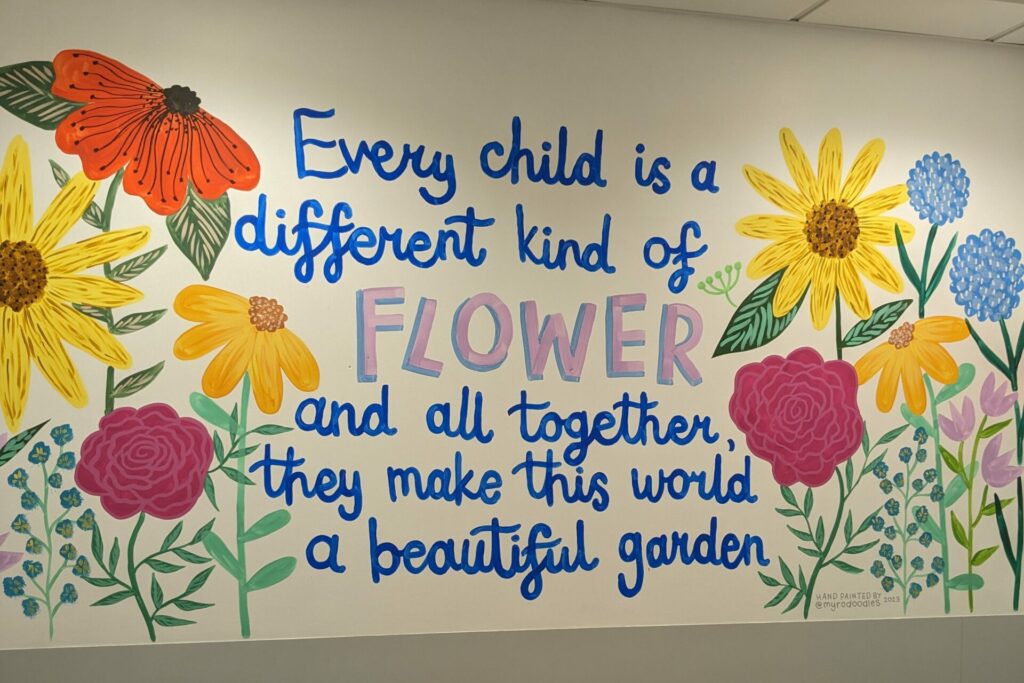 Areas of Royal Bolton Hospital's children's ward have been transformed into garden scenes thanks to the talented designs of a Manchester-based artist.
The 'parents room' now features bright and colourful hand-drawn flowers across the walls to create a more inviting space for the hospital's younger patients and their families, whilst the 'quiet room' has been decorated in a calming landscape design.
The ward uses the rooms to offer a variety of support to families:
The parents room provides a free space for families to take a moment away from the child's bed space to have a drink or something to eat
The quite room helps create an environment where staff can discuss issues that can be sensitive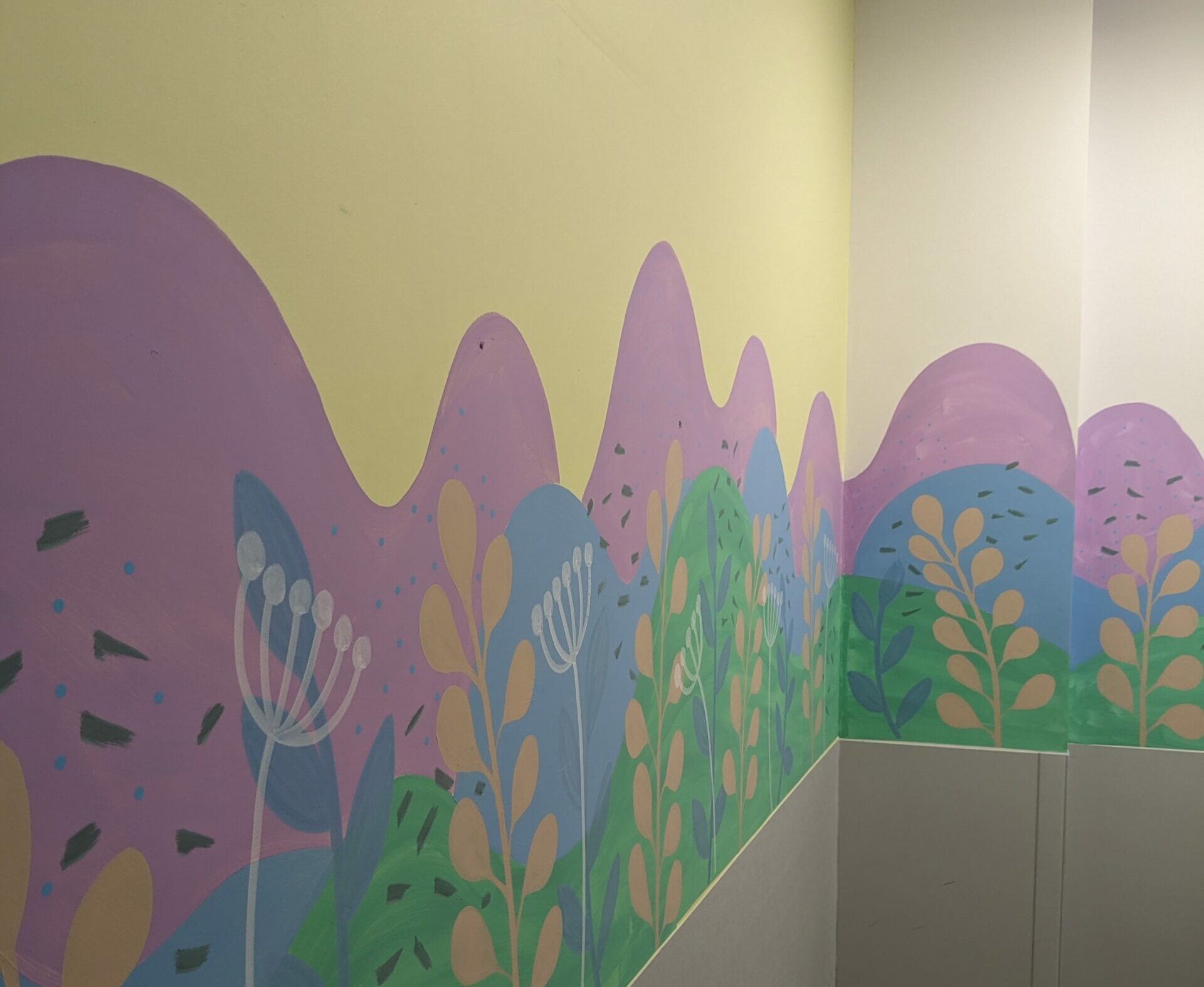 The idea to revamp the rooms was brought to life after staff on the children's ward set themselves a virtual bike ride fundraising challenge. They covered 370 miles, the equivalent of cycling from Bolton to the Florence Nightingale Hospital in London and part-way back.
Their efforts raised £2,500 for Our Bolton NHS Charity to improve facilities for patients, their families and staff.
Andy Butler, Matron on E5 Ward at Bolton NHS Foundation Trust, said:
Our quiet room and parents room are really important areas as it's where we deliver difficult news, or we offer the space for parents to take a moment for themselves.

"The rooms as they were looked a little tired and required a refresh, and as a team agreed we needed to create a calm and tranquil landscape in our quiet room and a homelier space in our parents' room.

"We are so thankful to Myro Doodles for helping us to create such wonderful spaces for our children and their families.
The 'parents room' wall art features a heart-warming quote amongst the flowers, which reads 'Every child is a different kind of flower and all together, they make this world a beautiful garden'.
View this post on Instagram
The words 'Taking care of yourself is part of taking care of your kids' also appear in the room alongside gentle waves, highlighting the importance of self-care at a time of looking after others.
Myroslava Coates, founder of Myro Doodles who created the ward illustrations, said:
I really wanted to use the power of paint to enhance what's already there in the ward to make it extra special.

"A lot of emotions can be experienced on children's wards so I wanted to make sure each room reflected how people's hospital journeys can be very different.

"All of my illustrations are hand-drawn so that they are truly unique, and it's so special to know that these rest and recuperation rooms will make a difference to families in Bolton for years to come.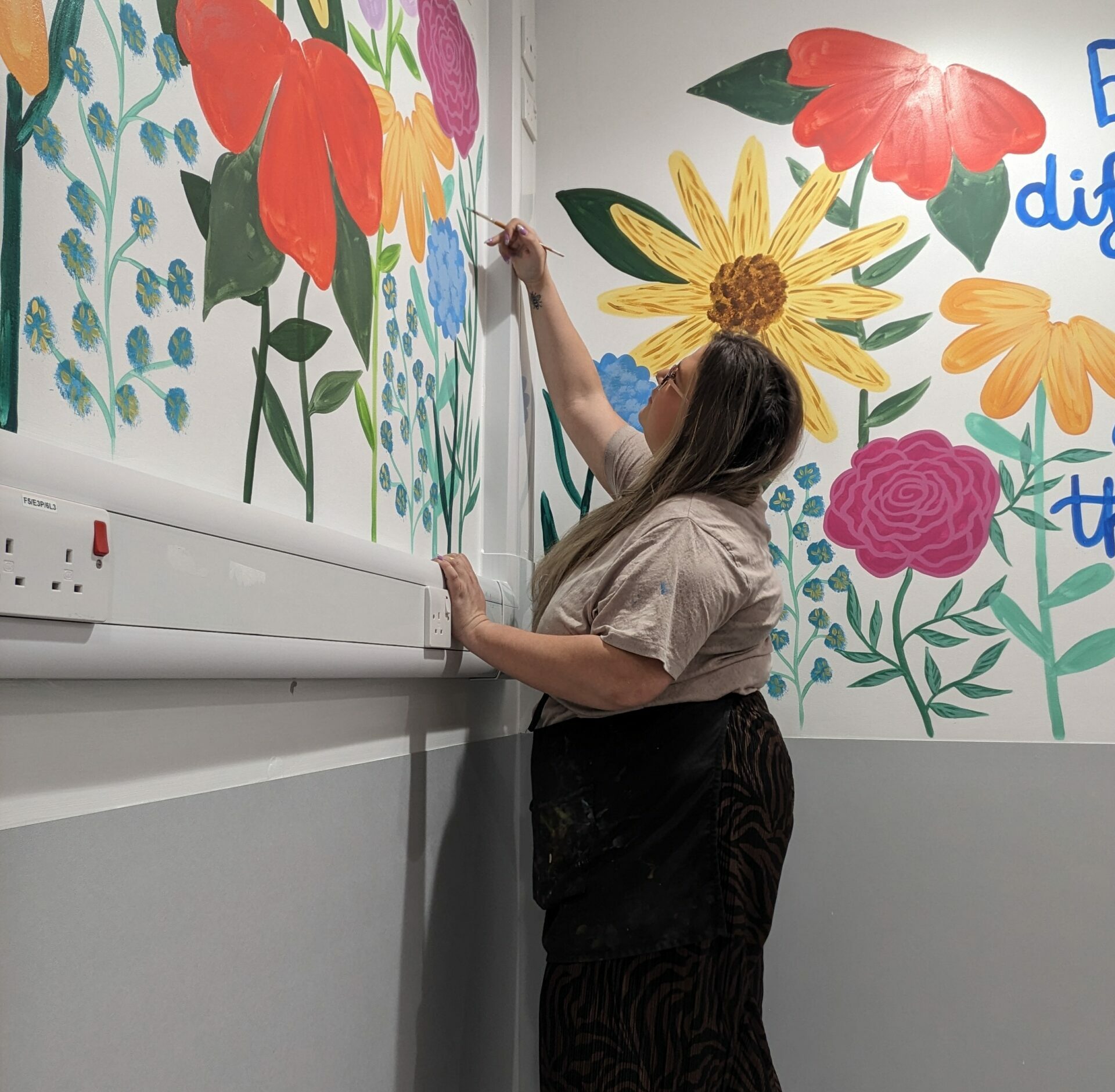 Sarah Skinner, Charity Manager at Our Bolton NHS Charity, said:
We are so grateful to all the staff on E5 Ward who took part and raised a fantastic amount of money to help improve facilities for their patients.

"Myroslava has done a wonderful job in making sure that no matter what emotions our families experience during their time in hospital, they have space that allows them to pause and be together.
For more information on how to support Our Bolton NHS Charity visit Bolton NHS Foundation Trust's website.