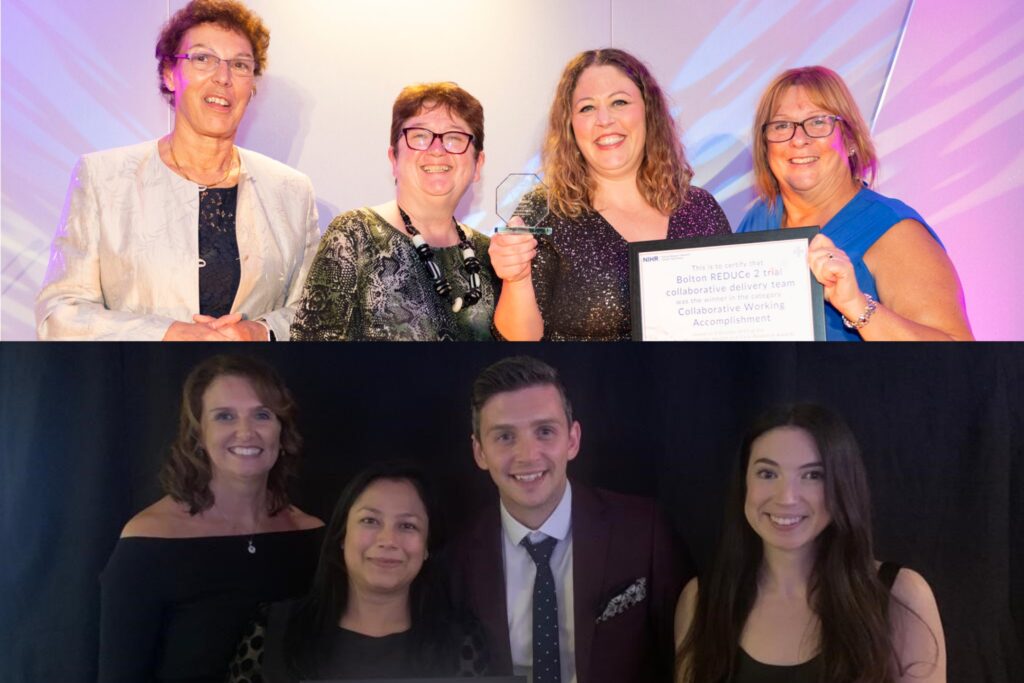 Research teams at Bolton NHS Foundation Trust win Collaborative Working Accomplishment
Neonatal Unit Research Delivery team runner-up in 'Outstanding Achievement by a Team'
Annual awards night recognises achievements of research community across Greater Manchester
Researchers at Bolton NHS Foundation Trust have been celebrated at the Greater Manchester Health and Care Research Awards 2023 for their work in helping to improve patient care in the future.
The Bolton REDUCE 2 Trial Collaborative Delivery Team were awarded the 'Collaborative Working Accomplishment' prize.
REDUCE 2 is a study looking at improving quality of life for patients with palliative liver disease, by enabling treatments to be delivered in the patient's home, reducing the need for hospital visits. The award recognises the collaborative work between the Hospital Liver Team, Community Nursing Services and Bolton Hospice.
Bolton's Neonatal Unit Research Delivery Team also came as a runner-up in the 'Outstanding Achievement by a Team' through their work recruiting to a study on RSV immunisation named HARMONIE and the teams increased commitment to studies running on the Unit.
Alison Loftus, Head of Research and Development at Bolton NHS Foundation Trust, said:
We are so extremely proud of our staff and the incredible work happening in Bolton to improve care for our patients, both now and in the future.

"Research really does have the power to change lives, and we are working hard to open up more research opportunities through collaborative working with our partners across the Bolton locality. We will be reaching out to our underserved communities to enable equal access to research for all.

"We would like to thank all of our participants for giving their time to help us to try and make a difference.
The 10th annual ceremony was hosted by Clinical Research Network Greater Manchester at The Etihad Stadium, Manchester, earlier this month.
The event recognised the outstanding work of the awards finalists during 2022/23 and celebrated the wider achievements of the Greater Manchester, East Cheshire and East Lancashire research community over the past decade.
Winners in each of the 11 award categories, plus Highly Commended finalists in five of the categories, were announced in front of an audience of 220 people featuring national and regional health and care leaders, local research teams, and industry partners.
Professor Andy Ustianoswki, Co-Clinical Director of NIHR Clinical Research Network Greater Manchester, ended the evening by saying:
On behalf of the CRN, I would like to say how extremely grateful we are to work with everyone in this room and across our network.

"It is a privilege to work alongside you all to help change people's lives through research. The work you do really does make a difference and you all should be very proud.
You can find more information about the research work at Bolton NHS Foundation Trust on their website.