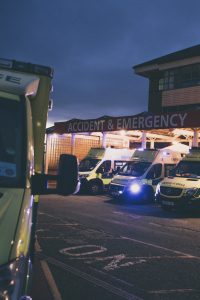 It's Wednesday 1 December. Royal Bolton Hospital has had a busy night and its A&E department is expecting patients to be queuing out the door.
Between midnight and 9am, 56 patients have come through the doors.
The nightshift has seen staff in tears.
Wait times to see a doctor are currently around two and a half hours, with some patients still waiting to be seen from the evening before.
One patient, Victoria, has been looking after an elderly patient throughout the night.
She's sourced brews, bought food and kept both their spirits up as they wait to be seen.
While A&E is not usually a space to make new friends, Victoria has swapped numbers and promised to meet up again in a more suitable place.
As reception staff book in a steady stream of walk-ins, Sue and Elisha at the 'quad' – where the most poorly patients are treated – are coordinating the flow of patients in and out.
They are working hand in hand with the flow team, who meet three times a day to monitor available bed space in the hospital and balance the urgency of each patient.
It's a never-ending puzzle which is made trickier by the continued effects of the pandemic and the pressure winter brings.
Today is a four meeting day.
Back on the quad, staff nurse Danielle is filling out paperwork before seeing her next patient.
She's worked in Bolton A&E for six months, having enjoyed the fast pace during a student placement.
We're seeing so many more patients than we used to, and people ask me if I regret taking this job,".

Some days we don't even get time to breathe. We're constantly rushed off our feet looking after our patients. But I love it. I don't regret coming at all.
Imran Khan, Urgent Care Lead at Bolton NHS Foundation Trust, said:
We've seen the numbers of patients steadily increasing during the last 12 months and while we have come to expect 350 to 400 patients a day in winter, we've been seeing those numbers since July.

There are a number of reasons we're seeing these numbers, partly due to the effect of Covid but also because we're seeing people attend A&E with issues that if they had been looked at earlier wouldn't have needed the urgent care we provide here.
Tiffany, a resus sister, explains how with the pressure being so constant that working in A&E can feel really overwhelming: "We're just doing all that we can to make sure our patients are well looked after."
In the waiting room, a member of the public is verbally abusing reception staff.
Royal Bolton Hospital is still not allowing visitors due to national Covid guidelines, with patients lateral flow tested.
Imran added: "Please bear with us. We are operating in a challenging environment and are still in a pandemic but our staff are here to care and treat people. There's no excuse for abuse."
By 1.30pm the wait time to see a doctor has risen to more than four hours.
95 people are waiting to be seen, with more yet arriving through the door and by North West Ambulance Service (NWAS).
Bolton's A&E department also has a dedicated children's A&E department.
Salman and Sarah, doctors in children's A&E, are busy writing up their notes before seeing their next patients, having already seen a lot of people with coughs, colds and fevers who could've sought care elsewhere.
'Thank goodness for the NHS'
Seven-year-old Rehaan however, is in A&E with a broken leg after falling over at school.
His dad, Fakhir, is full of praise and thanks for the care they're receiving:
We've only got compliments for the staff. The way they care for patients is heartwarming.
The A&E department, and wider Trust, does not simply run by nurses and doctors alone.
Reception staff manage all incoming patients, discharges, referrals and answer the constant phone calls.
iFM Bolton's porters and cleaners play a vital role in keeping the department, and rest of site, running, moving patients and ensuring it is as safe an environment as possible.
The A&E department also works hand in hand with its invaluable partners, including NWAS, GP partners and sometimes Greater Manchester Police.
Providing a high level of care is a motivating factor for those helping the department run smoothly, including Adam, an Healthcare Assistant.
He explains: "We want the very best for our patients and are proud of the services we offer. I'm here for whatever they need."
While the drive and desire to help others is clear from all involved, the sheer volume of patients arriving means waiting times remain longer than three or four hours all afternoon.
Imran continued:
It's been a challenging day for us, with more than 200 people arriving before 3pm on top of the large number of patients who have been waiting for beds since yesterday.

A high number of patients do need to be here and do need to be treated by us, but there are also patients who could've seen other services such as their GP or pharmacist, or got advice through the NHS website.

Our message to people is that GPs and pharmacies are still open and are extremely good at helping with less serious conditions, which helps leave space available for those who do need hospital care.
By 6.30pm 268 patients have been seen by the team and many more are expected, with six ambulances on site and three more to arrive shortly.
The number of patients in the waiting room has averaged in the region of 80 all day, with the total arrivals by 9.30pm reaching 329.
Scott Gregory, Operational Business Manager for Bolton A&E, said:
Live tweeting during the day has been great to show an insight into the department; how it operates and how challenging it is at the minute, but also showing the staff who run the department.

They come in every single day knowing that it's going to be challenging but still with a smile on their face knowing they can make a difference to the patients we see.
Each member of staff will leave at the end of their shift knowing they've left nothing on the table.
And ready to do it all over again.
Visit the Think Twice website to find out the best healthcare service for you this winter, created as part of the Bolton NHS Foundation Trust and Bolton CCG winter campaign.