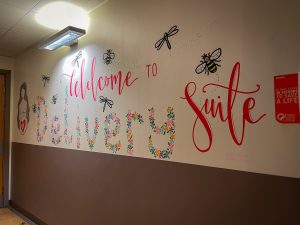 The people on Royal Bolton Hospital's delivery suite spend each shift making sure one of the most special day of a person's life can happen.
A team of midwives help to deliver roughly 20 babies every day, bringing life safely into the world.
The delivery suite, in the Princess Anne Maternity Unit, is warm and welcoming and run by people with a passion to help.
People who will drop everything when the urgent alarm rings.
People who are caring, calm and compassionate.
People who always want to help others.
On Friday, 19 November 2021, Sarah Holt (Team Co-ordinator) leads 11 midwives, a ward clark and a team of cleaners during her 11.5-hour shift.
They are assisted by consultants, doctors and theatre teams.
The whole delivery suite works as one, juggling bed and staffing pressures, theatre demands and the ticking time of nature.
Cries ring through the suite, both of labour and newborn lungs as they first taste air.
But Sarah and her midwives do not simply deliver babies.
They are part counsellor, chemist and confidant, skilled negotiators and, ultimately, are experts in their field.
And their patients have the utmost trust in them.
One couple, expecting their first child together, described seeing their midwife walk through the door: "as soon as she entered the room, we thought yes. She's perfect. She will understand us and help us."
Their midwife, Celena, described them as friends.
The couple are in good hands. Celena has been honoured by previous patients who named their daughter after her.
Sarah goes to check on a mum-to-be and her midwife, Lucy, in delivery room 3 at 10.03am.
Mum-to-be's notes suggest she may need an assisted birth, or perhaps even a Caesarean.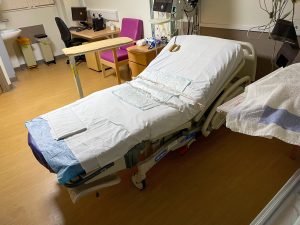 Lucy had helped mum with her previous baby, remarking how "it's always nice to see a familiar face."
By 10.07 babies' head appears, before the rest of her makes an appearance.
In those four minutes, Sarah and Lucy had been coaching mum, reassuring her and reminding her what an incredible job she's doing.
Even when Sarah is cleaning up and preparing to leave the room the encouragement continues: "you made that look easy! Soon you'll be having the best tea and toast you've ever had."
Back in the corridor a porter, Ben Hicks, has wheeled a patient in from maternity down into the delivery suite.
He said: "I love working here. I used to be a lorry driver, but it was a lonely job. I now look forward to coming to work so much. I meet so many people and while, like in any job, there are some difficult parts, I absolutely love it."
Ben's passion for work is shared by Sarah's team.
They are there for each other, in trying times as well as in good.
From Jackie, the ward clerk, through all the midwives, Sarah and the consultants, the team works together not dissimilar to a family.
Between the need for urgent care they share laughter, help each other out, give advice and discuss life outside work.
"Working on the delivery suite is a bit of a juggling act" says Sarah. "I have to think about the way each delivery is going, whether the patient will need theatre, what other help they will need and which midwives are available.
"If one delivery takes an unexpected turn it may mean I need to amend the plan for someone else."
Despite the pressures delivering babies brings, the atmosphere on the suite is welcoming and supportive.
Just after 12pm two Professional Midwifery Advocates (PMAs), Ali and Lizzie, arrive to check in on the team, and bring some much welcomed sweets.
PMAs provide support for midwives, help with report writing and also with mandatory training.
Shortly after Ali and Lizzie leave, a loud alarm sounds.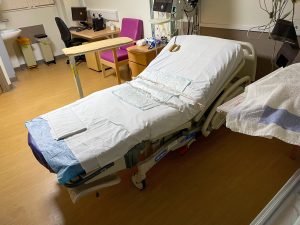 All available team rush to D5 – doctors, consultants, midwives – to help a lady in real need, as well as provide comfort and support to her partner and mum.
Once it's agreed she needs an emergency caesarean she's taken down to theatre room 2 for her baby to be delivered.
Back at reception, Krispy Kreme donuts have been delivered by a thankful new father for the team's previous hard work.
The alarm goes again. The team drop everything again to help.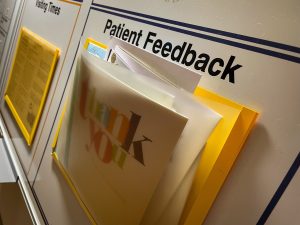 A patient, recently transferred in from another hospital in the North West, is suffering significant bleeding.
The team help the patient and arrange for blood to be sent down for them.
"We're like a well-oiled machine, well drilled and always ready to come together to help." Sarah explains as she walks to help Nicola, another midwife in the team, make up some more of the drugs used for induction.
Lucy pops her head round the door to discuss her patient, who cannot be transferred to the postnatal ward without an up to date COVID test.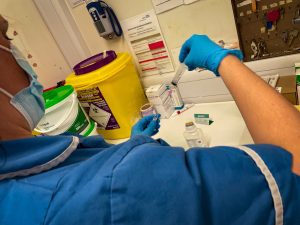 Sarah adds, "Covid has been really difficult. In the height of the pandemic we had to use delivery suite in part for pregnant ladies with Covid, which really impacted on the space we had for delivery babies."
Drugs made and packaged and Sarah is back walking the corridor, checking in on her team to make sure they are happy, have what they need and to see if they need anything.
Despite the pressures brought on by the pandemic, Bolton's midwifery team continue to smile and treat each patient, and their families and loved ones, like their own.
If you wish to join Bolton's team and make that special difference to others, visit our jobs site.