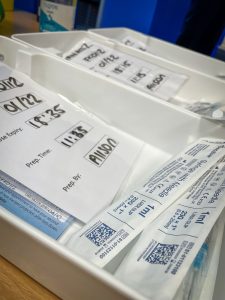 This month Bolton NHS Foundation Trust's School Age Immunisation Service have begun offering second dose COVID-19 vaccinations to local young people aged 12-15 in school settings.
Vaccinating 12 to 15 year-olds will help to keep young people in school and reduce the risk of spread of COVID-19 within schools, communities and families. Those who have received a first dose during the school programme in October last year or via the community offer will be offered a second dose of the Pfizer/BioNTech vaccine over the coming weeks, providing it has been 12 weeks since they received their first dose, and they have not tested positive for COVID-19 in the last 12 weeks.
The team will also be providing first doses to any children and young people who wish to receive one that haven't already.
We will once again be working with partners at Kildonan House and the GP Federation, who will be delivering the vaccine on our behalf.
Four vaccination sites across Bolton are delivering vaccines to 12-15 year olds and will continue to offer this service alongside the school offer. If parents and pupils would prefer to attend at a different time to the offer in school, they can check Bolton CCG's website and social channels for the most up to date locations https://www.boltonccg.nhs.uk/patient-zone/coronavirus. These are currently located at Market Place Shopping Centre, Horwich RMI, Avondale Health Centre and Hootons at Bolton Wanderers.
Karen Meadowcroft, Chief Nurse at Bolton NHS Foundation Trust said:
The vaccination programme is completely voluntary, but we hope that as many young people as possible will come forward to get their second dose of the vaccination when they are invited, to protect themselves and those around them.

Detailed information on the vaccine will be provided to students and families by the team providing the vaccination, to help them make an informed decision.  Families do not need to contact the NHS to arrange their child's vaccine, schools and providers will be in touch.
Bolton NHS Foundation Trust are responsible for the delivery of all school age immunisations in the area, and are providing the vaccination programme with oversight from Dr Helen Wall, Senior Responsible Officer for the COVID-19 vaccination programme in Bolton, and the Public Health department at Bolton Council.
Any updates about the programme will be available on our website and our social media channels for information.