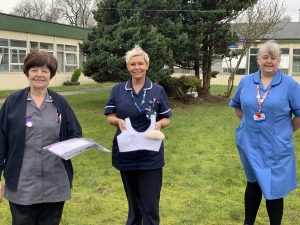 Breast services at Royal Bolton Hospital has been donated one hundred post-surgery bras for breast cancer patients to improve their comfort and wellbeing in the days following an operation.
The specially-designed garments, kindly provided by Bolton-based charity Boot Out Breast Cancer and created by Woman Zone, form a critical part of recovery from a mastectomy by providing support both physical and mentally.
It includes a featherweight temporary breast form to ensure softness and comfort as well as a light cotton bra.
Andrea McCann, Nurse Manager of Breast Services, said it also has a positive impact on body image:
Having breast surgery following a cancer diagnosis can be very daunting for a number of reasons, but an important concern for our patients is what they might need to wear afterwards.

We take that fear away from them by providing these bras, meaning they don't walk out of the hospital feeling unequal on either side. We hope this helps give them their confidence when walking out of the hospital.

The Trust is enormously grateful to Boot Out Breast Cancer for their support, and I would like to thank our staff and patients for their tireless fundraising efforts to ensure we can continue to provide these essential kits.
'One of the hardest things is to see your body has changed'
Boot Out Breast Cancer, was founded by Debbie Dowie in 2010 after she was diagnosed with breast cancer at Royal Bolton Hospital.
Since then, Debbie has committed to fundraising for the NHS, including at Royal Bolton Hospital:
We've been helping Bolton for the last twelve years and it's wonderful to see the difference being made by buying something that will hopefully enhance the journey of having breast cancer.

As a survivor myself, I know one the hardest things is to see that your body has changed. To be able to go home with a bra that fits you will make such a difference and take away some of that anxiety.
Staff at the Trust will measure and fit the bras for each individual patient so that it's suited to their needs, with support from the manufacturer 'Woman Zone'.
Marita Louis, Co-Founder of Woman Zone, said:
The post-surgery kit allows patients to go home with comfort and shape, designed for the first six to eight weeks after the operation.

It's a life-saver for a lot of women. The staff at Royal Bolton Hospital all share the same passion, which is feeding positivity and comfort to women who experience breast cancer and require surgery.