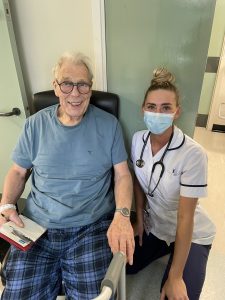 On Monday 7th February we introduced our Integrated Discharge Team, and their many colleagues that are all involved in our discharge process, via our Twitter feed.
The Integrated Discharge Team (IDT) are made up of a team of professionals including occupational health, physiotherapy and social care who work with colleagues across health and care to get patients home with the support they need.
The discharge process is unique to each person and, as such, involves lots of different staff members, assessments and stages to ensure it is done right. As the Day in the Life demonstrated, staff from across health and social care are all involved at different parts of the process and each one is dedicated to ensuring that our patients are safe and supported.
"The attention I've received in the hospital has been superb, I've been well looked after," said Derek Evans, who was waiting to be discharged from hospital on Monday, following surgery on his broken femur that he injured playing football with his nine-year-old grandson.
I had my operation on the Monday after I was admitted, I had difficulty moving. I worked with the physios who helped a great deal and gave me exercises I could do on my own. I've been looked after every day here and have had lots of encouragement from them so I am now feeling confident to continue my recovery at home and with the backing of my physios, I'll be playing football in no time.
As Derek doesn't reside in Bolton, his discharge has been a bit more complicated, but the IDT will work with health and care support in his home town to ensure that he has the help he needs to recover at home.
This example shows that the discharge process isn't just about sending someone home. The process starts as soon as a person is admitted to hospital where teams like the Acute Therapies team will screen new patients and assess who needs therapy input to get them home sooner.
Teams on each ward hold daily meetings to discuss and assess each patient's needs to determine when they can go home. They liaise with colleagues in social care, housing, care homes, home care, pharmacy, therapy and reablement, just to name a few, to ensure there is a package of care in place to support them out of hospital.
"Over the past few months there have been some real challenges since Omicron, including impacts on staffing levels, our intermediate care homes and reablement services due to outbreaks of COVID-19," said Mandy Woods, Head of Service.
As a system and an integrated team, people have really pulled together and really worked hard to pull out all of the stops to ensure that people have got access to the services they require in a timely manner.
The aim of the IDT Day in the Life was to show the complexity of the discharge process as well as the importance that people are discharged out of the hospital as soon as it is safe to do so. So many people both at the Trust, in the community and at the council, are dedicated to helping people find the support they need to finish their recovery at home.
So if you find yourself in hospital, you can rest assured that there are teams of people working to get you discharged, because as we all know, 'there's no place like home.'