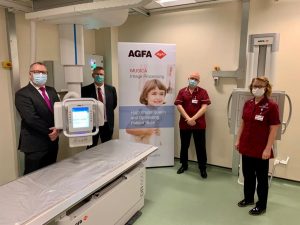 Brand new X-ray technology has been unveiled at Bolton NHS Foundation Trust, described by experts as 'ground-breaking' in how it helps both patients and radiographers.
The X-ray equipment provided by AGFA uses Artificial Intelligence to help radiographers to produce technically correct images whilst minimising the radiation dose and shortening the examination time.
The system also uses new technology to tailor the dose of radiation to the patient.
The first of a number of new AGFA X-ray rooms is now open and ready to use at Bolton One, with further equipment due to be installed across the site.
Dr. Amanda Martin, Lead Radiographer at Bolton NHS Foundation Trust, said:
Our team of radiographers take great pride in their imaging techniques and clinical image quality. We have a 'first time right' approach to delivering excellent image quality and training.

The ability of the AGFA equipment to work with the radiographer in achieving this is what attracted us to AGFA, as well as their focus on patient safety and radiation dose reduction.
The innovative software design will allow the Trust to configure the equipment to suit the needs of the department in order to deliver improved productivity and consistent outcomes.
Dr. Martin added:
Every patient attendance is different and this software incorporates on-screen guidance and feedback on the best technique at the point of taking the image. This allows radiographers to improve their already exceptional skills and drives image quality even higher for the benefit of the patient.
Martin Tew, Sales Director UK and Ireland for AGFA, said:
We are delighted that Bolton NHS Foundation Trust have put their confidence in AGFA and in our DR 600, which offers intelligent, leading-edge technology to ensure patient and staff comfort in the most complex and busy healthcare environments.
Royal Bolton Hospital is also working with an international team from AGFA to develop educational software that will support radiographers in training to understand specific techniques involved in the positioning of patients to ensure the continuous drive for quality in imaging.