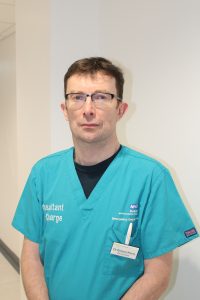 Congratulations to Dr Richard Parris, Emergency Medicine Consultant, who has been appointed as Head of School for Emergency Medicine at Health Education England North West.
Dr Parris has worked at the Trust since April 2004 and was initially the Trust's Speciality Training Lead for our Emergency Medicine Department for a number of years before he became the Training Programme Director for the North West almost six years ago.
Speaking about his new position, Dr Parris said:
I'm delighted to have been appointed and am keen to drive further improvements in the standards of training in Emergency Medicine, which will benefit not only the trainees but also the many medical and non-medical trainees and other members of staff who engage with the department on a daily basis.

I strongly believe that high quality training drives high quality patient care and patient safety, and there are many unique challenges at this current time due to the pandemic which affect both trainees and trainers.

Our Emergency Medicine Department has a good reputation for training, and in particular trainee wellbeing, because of the commitment of our staff within the department, and also the support we get from the wider Trust, and my appointment has definitely been helped by the fact that I work in a department with such a strong educational ethos.
Claire McPeake, Divisional Director of Operations for Acute Adult Care said:
This is a real positive for Bolton and is testament to Dr Parris's unwavering leadership, clinical excellence and pastoral care for medical trainees.
We'd like to wish Dr Parris every success in his new role and will look forward to hearing about the developments he is working on in the coming months.