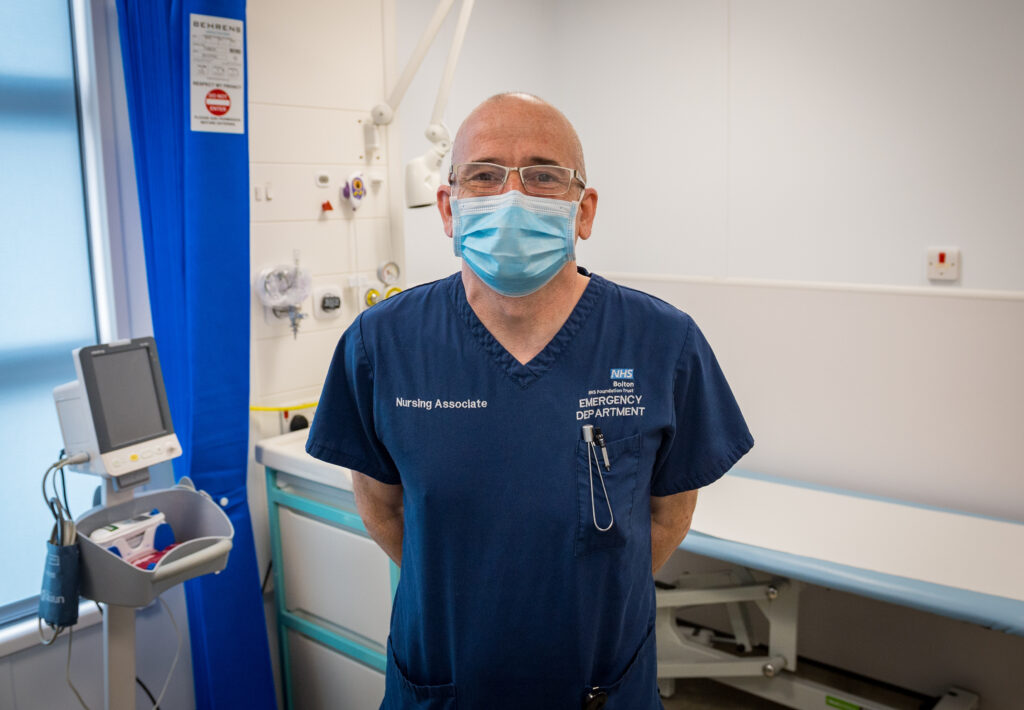 Michael O'Connor has won Nursing Associate of the Year at a regional awards evening for his exceptional work helping the people of Bolton.
Michael won the award at the Health Education England North West Training Nursing Associate and Nursing Associate awards.
Nursing Associate Michael has worked at Bolton NHS Foundation Trust for ten years, originally as an Health Care Assistant before completing a Nursing Associate degree with distinction at the University of Bolton.
He currently works in Royal Bolton Hospital's minor injuries department, where he looks after patients by wound management, fracture management, medications and assessing patients' observations, as well as helping vulnerable adults.
Michael O'Connor, Nursing Associate at Bolton NHS Foundation Trust, said:
I definitely feel proud to have won but it was a bit of a shock to be honest!

"I didn't know I'd been nominated but then started getting all these congratulations saying well done for winning Nursing Associate of the Year North West.

"It is a team effort though, and everyone is minors is really supportive of this relatively new role.
Michael was in the first cohort of Nursing Associates to graduate from the University of Bolton, achieving a distinction.
He continued:
I've now been at Bolton NHS Foundation Trust for nearly 10 years, starting as a Health Care Assistant before successfully applying for the Nursing Associate university course and have now worked in minors for three and a half years.

"It's always nice to see a patient again where the wound care you've one has healed so well and without any scarring.

"I'd wholeheartedly recommend others to progress to becoming a Nursing Associate, especially Health Care Assistants.

"I love it here.
Michael was nominated for the award by Barbara Whittaker, Emergency Department Nursing Consultant at Bolton NHS Foundation Trust.
Barbara explained:
Michael is extremely hard-working, always has a smile on his face and adapts to so many different changes, especially during the height of the pandemic.

"Working in the emergency department can be very busy and challenging, but Michael shows incredible compassion with all his patients and their loved ones, as well as being willing to go that extra mile for them.

"Well done Michael on your award. You're a credit to your team and the whole of Bolton.
Nursing Associates provide 24-hour support to the emergency nurse practitioner team to help provide a quick and efficient service to patients who arrive with minor injuries.
Want to work somewhere you love? Join our team.