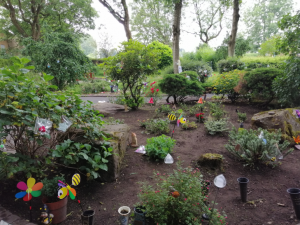 Join us at 3pm on Sunday 3 April 2022 in remembering babies who are sadly no longer with us.
The Annual Baby Remembrance service will be taking place at The Bridge Church in Bolton.
It is open to all parents and families of babies who have sadly passed away and gives a space for them to commemorate their much loved babies.
It will be a multi-faith service and also suitable for those of no-faith, about 30-40mins long with an act of remembrance, which will consist of prayers for faiths including Christian, Hindu and Muslim, readings, poems and music for reflection.
Rev. Catherine Binns, Deputy Head Chaplain, said:
The service is always much appreciated by families. To lose a baby is a tragedy for any family, and many parents want to have some way of commemorating their child.

This service is very successful in giving that opportunity and offering support and understanding. We hope people will attend.
There will be refreshments after the service, and an opportunity to talk with staff from Maternity, NICU and Chaplaincy. There will be crèche facilities.
Join us by booking your place via Eventbrite or scanning the QR code.
Venue:
The Bridge Church 109 Bradford Street,
Bolton BL2 1JX
Service:
3pm on Sunday 3 April 2022
Due to possible Covid restrictions we are using Eventbrite this year for bookings.
Invitations will be going out in the next couple of weeks to those who completed a GDPR form last year. If you haven't completed a form and want inviting to the annual service please contact babygarden@boltonft.nhs.uk.