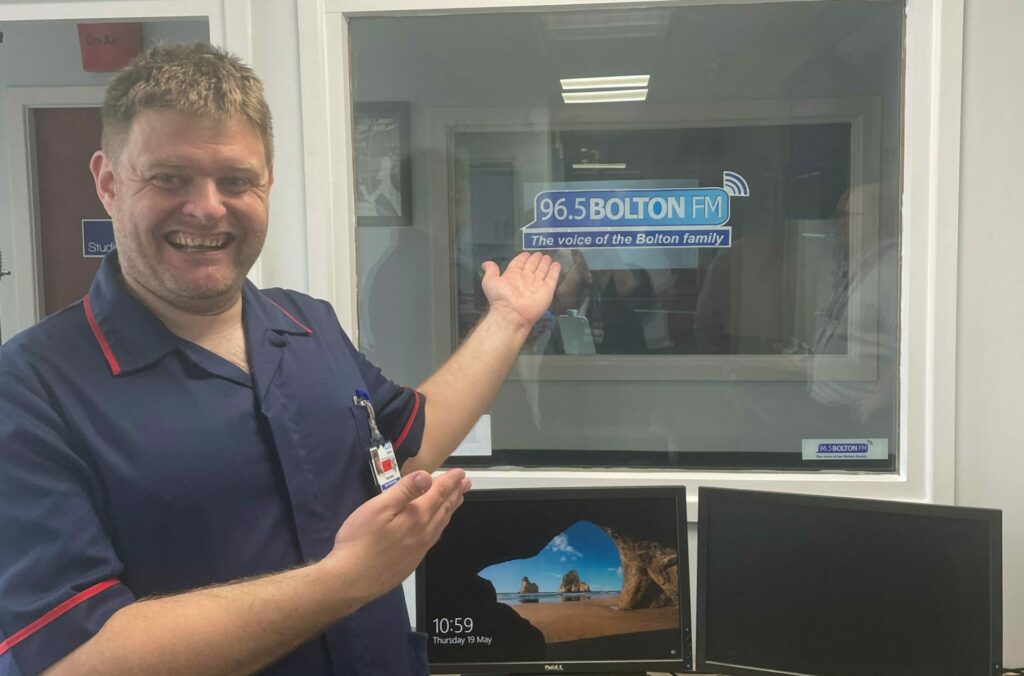 Meet David Neilson, an Admiral Dementia Nurse here at Bolton NHS Foundation Trust. As an Admiral Nurse David specialises in dementia care helping families and carers gain the necessary skills to assist with dementia care, promoting positive approaches in living well with dementia and improving the quality of life for all.
The Admiral nursing service was developed by Dementia UK with the first Admiral Nurse being appointed in 1990; they get their name from Admiral Joe Levy, founder of Dementia UK and a keen sailor.
Bolton NHS Foundation Trust have worked in partnership with Dementia UK and appointed its first Admiral Nurse in April 2019. David's role involves providing education and advice, signposting people in need to acute crisis intervention, taking and delivering referrals, leading on complex discharge planning to ensure that families are well equipped at home, and participating in Multidisciplinary Team Meetings (MDTs) to collaborate with colleagues on the patient's care.
David said:
I am very passionate about working with people and families living with dementia and aim to do all that I can to ensure families and carers have all of the support they need

I have had the opportunity to take the lead on a number of really helpful projects such as the development of distraction boxes for patients to help with stimulation and activity and the creation of the Admiral Hub that will help enhance the quality of care and support for patients, families and carers in the Trust.
The role of Admiral Nurse often involves working in collaboration with teams and services across the health and care footprint in Bolton. David works closely with Teams within the Trust and community, as well as with organisations such as Age UK, Dementia UK, Bolton Carers Support, Bolton Dementia and social services.
This collaborative work includes providing families and carers with the skills and services they require to feel supported within their community and intervening when they are in crisis. David also works closely with teams at the Trust and is aligned as part of a larger service with the Enhanced Care and Support team (ECAST), the learning disability team and the falls nurse to help provide person centered care to our patients while they are in the hospital.
Finally, as a dementia care specialist, David has also taken on the role of being a champion for the John's Campaign at Bolton Hospital.
This campaign, that applies to all hospital settings (acute, community, mental health), aims to ensure that, at minimum, one key carer or family member is welcomed to accompany a person with dementia when they require care at any hour.
According to John's Campaign this principle is applicable everywhere: in the doctor's surgery, A&E, hospital wards, dementia assessment units and care homes – where it is safe for everyone to do so.
Martina Kingscott Assistant Director of Nursing for Patient Quality and Experience said:
Working alongside Dementia UK to facilitate the introduction of the Admiral Nurse at Bolton has been life changing for our patients and community especially during the pandemic. We have 2,453 people living in Bolton with a formal diagnosis of dementia, however it is estimated that the true number is in excess of 3,000 people.

The Alzheimer's Society reported that 36% of carers provided more than 100hrs of care per week. Given the reliance on carers, support for and recognition of carers is embedded within the Admiral nurse role and is a priority area within both primary and secondary care settings.

David continues to train and expand the Dementia Champions network across both the acute site and community and has delivered training to allied organisations such as Bolton carers support to help streamline the approach within the Bolton community.

The Admiral Nurse service within Bolton has been recognised nationally as a best practice model for replication and David is taking the service from strength to strength. He has integrity and compassion and ensures that the patient is at the heart of everything he does.
Dave was featured on Bolton FM alongside some of our community partners. Be sure to listen in on the Bolton FM website.