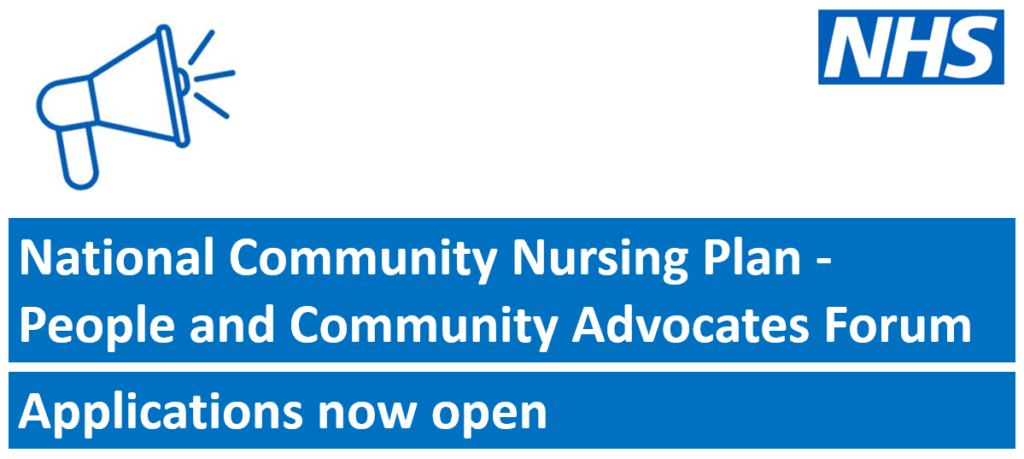 NHS England is currently looking for people to become Patient and Public Voice (PPV) members to help create the People and Community Advocates Forum (PCAF).
The forum provides a clear voice for people and patients in the decision making process for the National Community Nursing Plan to ensure that those who require community nursing support are getting the best care possible and that their needs are being met. Therefore, we are encouraging all who have experience of health and care relating to the work of community nursing to apply for the opportunity to develop and deliver this programme and help influence positive change for community nursing in England.
This is an opportunity to not only give yourself a voice in the shaping of the future of health and care but also to represent the unique needs of Bolton people and the communities we live in.
As a member of the PCAF you will have a chance to participate in discussions and provide your input as part of a group that that embraces equality and diversity in its membership. You will be involved in a group that works in a friendly and focused way, and acts with fairness, dignity and respect.
If this is of interest to and you would like to use your lived experience in community care to play a part in changing community nursing services in England now and for the future, please apply using the form found via this link: click here.
The deadline for your application is 19 May, 2022.
In recognition of the value of your expertise and lived experiences that you will bring, patient and public members of PCAF can claim an involvement fee for their participation.
If you have any questions about the application form or require more information, please email: England.communitynursing@nhs.net