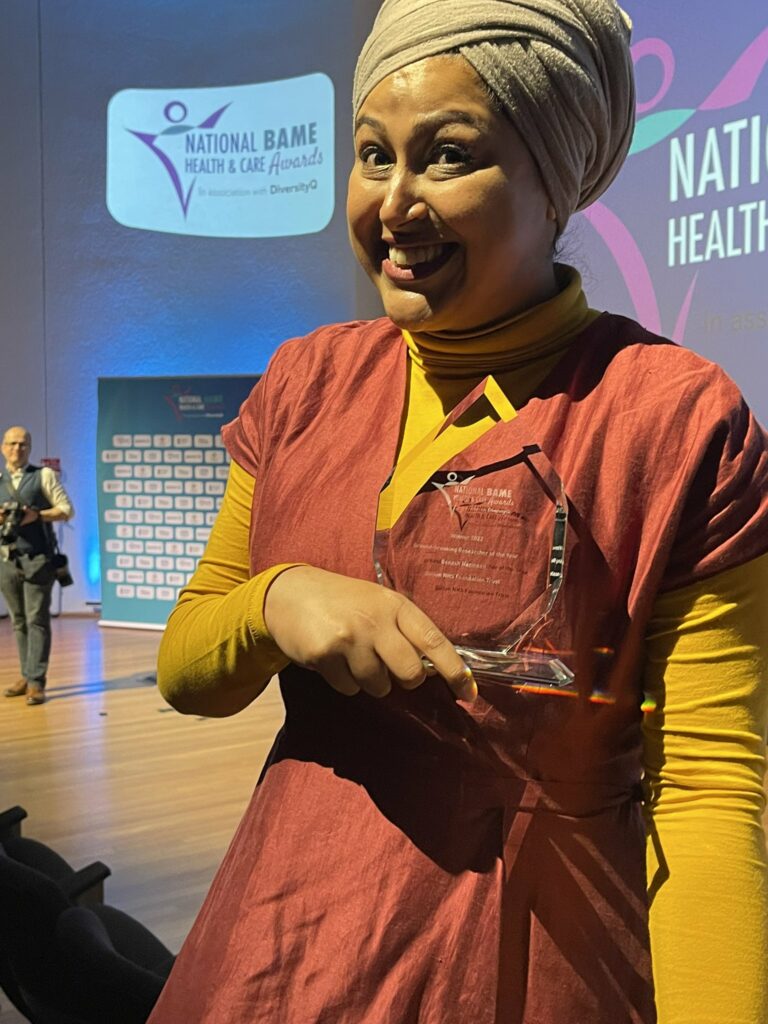 A midwife has a won an award at the prestigious National BAME Health and Care Awards 2022 for her game-changing work whilst at Royal Bolton Hospital's Maternity Unit.
Benash Nazmeen won the Ground-breaking Researcher award at a special event in London last night, and during her career has become a champion for maternity care services.
After joining Bolton NHS Foundation Trust in 2020, Benash quickly began applying national statistics and information to learning about the diverse population of Bolton and what our communities were experiencing in terms of health inequalities.
It's recognised that women from BAME backgrounds have poorer pregnancy outcomes, higher stillbirth rates, and a higher risk of maternal complications, and Benash took responsibility for identifying how the Trust could improve the care it delivers to ensure high quality, personalised care for all.
The result was a new hub for pregnant people to access maternity services in a targeted area, bringing care closer to home for those who may have previously faced barriers when accessing maternity care.
The hub opened in June 2021 in a space within the Bolton Council of Mosques building, a collaboration between the Trust and their organisation.
It provides a full day's antenatal clinic every week for booked appointments as part of a pregnant women's regular maternity care, and antenatal drop-in sessions, for women to attend and discuss anything non-medical.
James Mawrey, Deputy Chief Executive and Director of People at Bolton NHS Foundation Trust, said:
It's always great to see the dedication of our brilliant staff rewarded on a national stage.

Their work is making a difference to diversity and inclusion each and every day, and here at Bolton we'll continue to provide the tools to ensure our staff can develop in their careers and build initiatives that benefit our communities.

It is so important for us to recognise the hard work and resilience of our BAME health and care staff, particularly following the additional challenges faced during the Coronavirus pandemic.
The hub has provided more options to access maternity care locally making it more likely that women will receive care and support, and the aim is to continue to learn from these local communities and cultures to build the service.
The Trust is really proud to have had a further four nominations at the awards: Anisa Mohamed for BAME Nurse of the Year, Lynne Bromley for Community Initiative of the Year, Ilyas Adam for Compassionate and Inclusive Leader, and Rizwan Malik for Digital Champion.
The Awards celebrate BAME staff and networks across British health and social care who are making significant improvements in BAME career development support and forging better healthcare initiatives for their communities.
If you want to make a difference and help us change the lives of communities across Bolton, then there's A Place For You on our team.