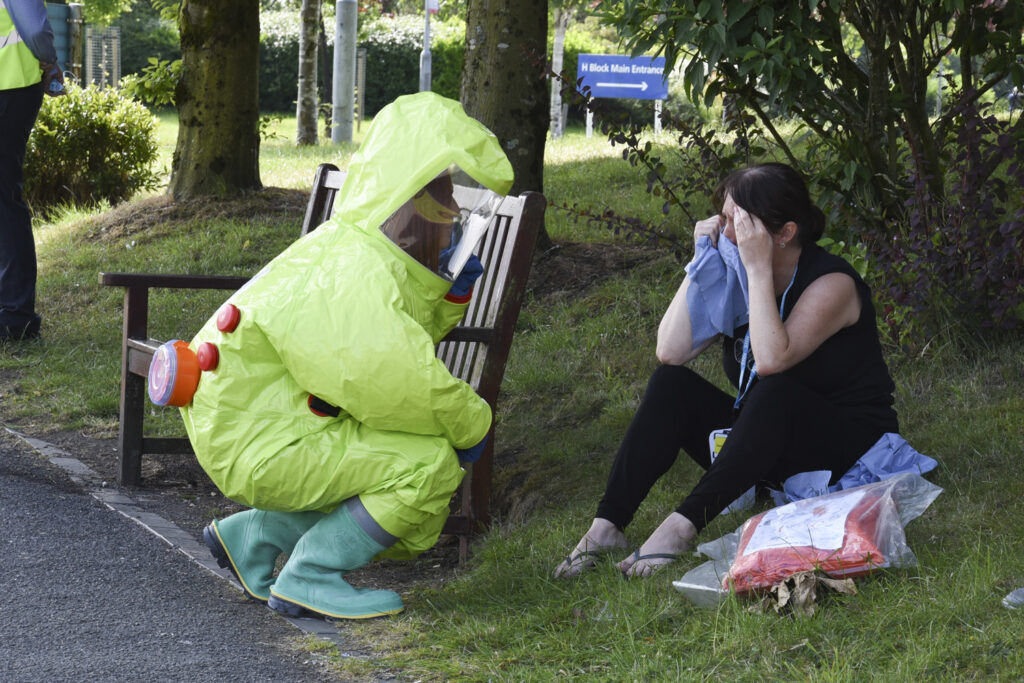 Training exercise to test response of hospital
20 volunteers arrived at A&E with chemical reaction symptoms
Findings of exercise will help improve the hospital's readiness
Staff at Royal Bolton Hospital tested their emergency response to a specialist incident this Tuesday (21 June).
The training exercise saw 20 volunteers arriving at the emergency department throughout the morning with symptoms of a chemical reaction.
Emergency department staff then followed their emergency response protocol, which included:
Putting on specialist, chemical response PPE
Triaging 'affected' patients into a waiting area away from other patients
Decontaminating each patient
Jimmy Tunn is Bolton NHS Foundation Trust's Emergency Planning Manager. He said:
It's critical that A&E departments carry out these procedures and today has been a really important exercise to test our processes.

"Some really valuable learning has already come from this exercise today which will help us to improve if we do have a chemical incident in future.

"Thank you so much to our volunteers, staff and everyone else who took part and helped make it happen.
Exercise carried out throughout Greater Manchester
The exercise was planned during the last month and took place at the same time as a number of other exercises in Greater Manchester, under the name Exercise Mitchell.
Ian Chapman, who works at Bolton NHS Foundation Trust as People Development Practitioner, was the first 'patient' to be seen. He said:
It was a really interesting exercise and while there are ways to improve our response it was a really good experience and was so valuable to do.
Michelle Barber, a secretary in the Trust's Estates department, also volunteered to be a 'patient', saying:
One particular nurse was very calming and very precise with her instruction, which helped me to stop being more worked up than I could've been.

"All in all, it was a very valuable experience and it showed me a very different side to our hospital to my job.
Ashleigh Gundlach, emergency department staff nurse, and Fay Smyth, emergency department sister, both spent time helping patients while in full chemical response PPE.
Ashleigh said:
It's so important to carry out these sorts of exercises as if this happened for real now I'd be so much better prepared.
Fay continued:
Everyone involved has learnt so much and it's so helpful improving our knowledge on how to deal with different incidents.
"It was impressive to watch"
Sam Ball, Associate Director for Improvement and Transformation, also volunteered to be a 'patient' during the training exercise.
She said:
It was a really good experience. I was quite nervous before we went out but I feel quite privileged to have been a part of it.

"It was impressive to watch how our emergency department colleagues worked and helped us.
Brendan Lane was the senior charge nurse during the exercise and coordinated the department's response.
He described:
Having dealt with similar incidents for real, this felt quite realistic.

"Our staff have done brilliantly, as did our volunteers who in some cases put themselves through the cold showers twice.

"We need to prepare for this kind of incident, as unfortunately it has happened for real across the globe.

"A lot of the things we knew already we put into practice, but as the exercise progressed we improved.

"It's not something we do every day, but it's something we need to prepare for.
Emergency department matron Laura Wells added:
I'm always immensely proud of my team, but I am so proud of how my team steps up during incidents like this, even if it's just a training exercise.

"It's really important to carry out incident training as although we wish to never need to use our specialist training we need to be prepared and ready if it does.