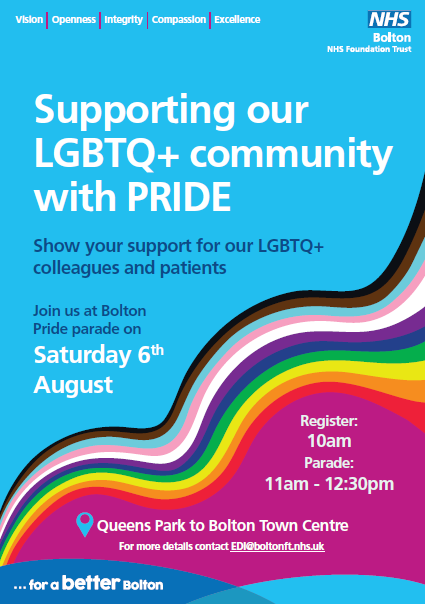 NHS staff mark 50 years of Pride in the UK, as Bolton Pride returns for 2022
Bolton NHS to join annual parade and will host information stalls about services
Significant pieces of work underway to improve diversity and inclusion
Staff at Bolton NHS Foundation Trust are marking 50 years of Pride in the UK by sharing what Bolton Pride means to them.
The annual event returns on Friday 5 August to celebrate Bolton's LGBTQ+ communities.
It will see hundreds of people and organisations proudly march through the town to promote progress and inclusion.
The Trust will once again be showing support for LGBTQ+ colleagues and patients by joining the parade route on Saturday 6 August as it sets off from Queens Park to Bolton town centre.
Staff will also be hosting information stalls to help people understand the wide variety of services Bolton NHS Foundation Trust offers across Bolton.
"Pride is about celebrating"
Jake Mairs, Associate Director of Organisational Development at Bolton NHS Foundation Turst, said:
Pride for me is about celebrating the progress so far in our powerful and dynamic community here at Bolton.

"It's also about reflecting on far we have come and how much work we still have to do on this agenda and making Bolton even more inclusive.
David Neilson, Lead Admiral Nurse at Bolton NHS Foundation Trust, commented:
Pride means looking at the timeline of where we were and where we are now, celebrating achievements of the others who fought to give us our rights and our equal standing in society, and also the people who are taking on the baton to move the LGBT cause further for future generations.
Work ongoing to embed equality and diversity
Around one percent of the Trust's workforce currently identifies as LGBTQ+, and significant pieces of work have been developed to fully embed equality and diversity.
This includes the launch of an LGBTQ+ Staff Network and the roll out of the Rainbow Badge campaign to strengthen the Trust's commitment to LGBTQ+ equality.
Ian Chapman, People Development Practitoner at Bolton NHS Foundation Trust, said:
It's crucial that we're able to demonstrate inclusivity.

"Playing a really active role in Bolton Pride shows no matter what your background, everyone is welcome to come and work at Bolton and to feel included here.
Lynne Fazackerley, People Development Lead at Bolton NHS Foundation Trust, added:
Everyone should feel comfortable to be open about their identity, and I want my colleagues and those we look after to feel relaxed about that.

"It's a brilliant opportunity to celebrate all the diversity we have in the organisation and across our amazing communities.
Further details about the event can be found on the Bolton Pride website.