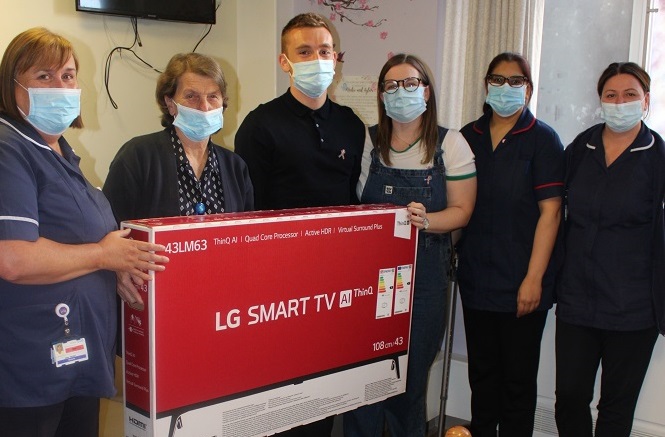 The parents of a baby boy who sadly died shortly after birth are showing their thanks to midwives at Bolton NHS Foundation Trust with a generous donation to help them support other families.
Emma and David Watts have donated a brand new Smart TV for maternity patients at Royal Bolton Hospital which can now be used to offer comfort to those who have experienced the heartbreak of losing their baby during pregnancy, at birth or soon after.
Emma said:
Having recently lost my baby boy I knew how much this would help other families.

"I know having a bereavement suite would make a big difference for families and having the Smart TV and bedding will hopefully improve the quality of their stay.

"It can be difficult for parents when they have had such sad news, having somewhere private really helps at such a difficult time.
Seema Kala, Midwife at Bolton NHS Foundation Trust, said:
We're so grateful to Emma and David's donation, it means a great deal to us that they would give their time to donate to such a worthy cause, especially after what they have been through.

"They did this to improve the support that was available to other families going through the same difficult situation as they did.
Support is available for people across Bolton who are being invited to come and light candles at Royal Bolton Hospital to mark the end of Baby Loss Awareness Week (9th-15th October).
On Saturday 15th October a Wave of Light service will take place in the Baby Memorial Garden at Royal Bolton Hospital.
The event will start from 6.45pm, before lighting a candle at 7pm with a short service featuring music and poems.
Battery lit candles will be provided which can be left to glow in the garden, in a poignant tribute to all the babies who shined brightly in people's lives.
For more information about the Wave of Light event, please click here.