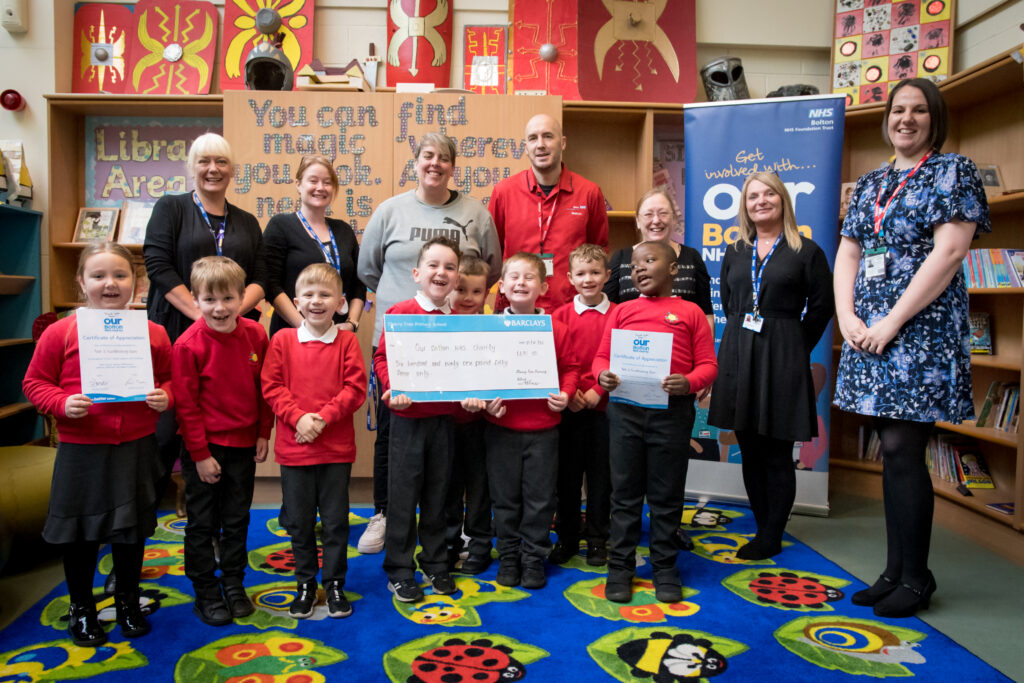 £691.50 raised by Bolton schoolchildren
Donation will be used for 'fruity Fridays' and for equipment
Money raised through football tournament
Bolton schoolchildren have raised more than £690 to help children recovering on Royal Bolton Hospital's children's ward.
The children, who are now in Year Two at Cherry Tree Primary School in Farnworth, played in a football tournament at the end of the last school year.
The tournament was to raise money for the children's ward at the Royal Bolton, with the schoolchildren raising £691.50.
Many of the (as was) Year One children joined in the tournament and were sponsored by their friends and families.
Mary Fraser, Head Teacher at Cherry Tree Primary School, said:
Our children were so good on their football day to raise so much money for the hospital; they did brilliantly.

"I'm so proud of them all for taking part and for donating the money to those who need it!
Lynsey Nixon, Higher Level Teaching Assistant at Cherry Tree Primary School, added:
We use the children's ward at Royal Bolton Hospital quite a lot, with both our children and sometimes our parents, so we and the children wanted to give something back.

"Raising so much money is fantastic.
Funds to be used for children in hospital
The children presented Our Bolton NHS Charity's Sarah Skinner and Bolton NHS Foundation Trust Matron Andy Butler with a cheque on Monday morning (31 October).
Andy, Matron on the children's ward, said:
Thank you very much to everyone for having the football day and raising so much money!

"We will be using these funds to create 'Fruity Fridays', so children who are staying on the ward can come together and enjoy a healthy snack on a Friday afternoon.

"We'll also be using the money to fund some really cool equipment to help hospital feel less like hospital and bring smiles to lots of children's faces during their time with us.
Our Bolton NHS Charity goes above and beyond what the NHS can provide for patients using Bolton NHS Foundation Trust's services and its staff.
Sarah, Charity Manager at Our Bolton NHS Charity, said:
It was a special moment hearing that the children had chosen to fundraise for Our Bolton NHS Charity and we are incredibly grateful for their support.

"The children who took part in the football tournament are our fundraising stars and it was wonderful to meet everyone and present both Year Two classes with a certificate of appreciation.

"On behalf of Our Bolton NHS Charity and Bolton NHS Foundation Trust, a big thank you to the staff at Cherry Tree Primary School for organising the tournament; all the children who got involved, and family members who made a donation.
Find out more about Our Bolton NHS Charity or donate online.