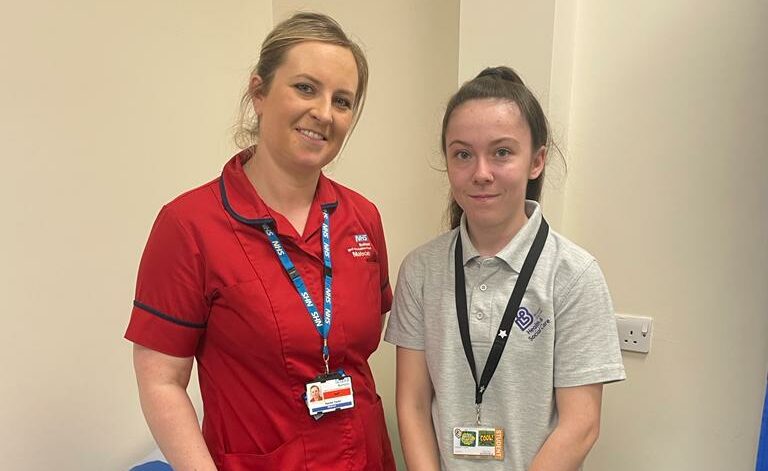 A new cohort of students from Bolton College have joined a one year programme to learn first-hand what a career in healthcare looks like at Bolton NHS Foundation Trust.
The students, known as T Level Students, receive teaching and guidance from staff the Trust, with each student required to complete 160 hours of observational work experience in a health and care social setting.
The T Level programme aims to equip people with the skills they need to join the industry.
Ebbony, a 16-year-old T Level Student, has been spending some time with the Treatment Room team at Water's Meeting. She's interested in becoming a paramedic one day and has found the work experience she's had so far to be really beneficial in helping her achieve her goals.
When I was younger I wanted to be a footballer, but I soon decided that being a paramedic was what I actually wanted to do. I think it's the adrenaline rush that I like the most about it, but also doing a good job and helping people.
Throughout her experience with the team she's observed a number of procedures including wound care, dressing leg ulcers, catheter changes and the insertion and removal of stitches.
I've learned and seen so much so far. I'm definitely not afraid of wounds or blood or anything like that. I think learning about catheters and how they work has been the most interesting bit so far.
The team has really enjoyed having Ebbony working with them and always make sure that they are explaining and talking her through the different procedures they perform. This is really appreciated by Ebbony as well as the variety of work she gets to be involved in.
The Treatment Room team are just amazing, they're like one big family who have really made me feel welcome. They always make sure I'm getting involved and that I'm looked after and no question is silly to them, they answer any question I have.
Rachel Taylor, Matron at Bolton NHS Foundation Trust, is really supportive of the T Level programme:
We have really valued having Ebbony join us these past few weeks, she's a great addition to the team and is always keen to get stuck in. She definitely has a bright future in healthcare.

"I think it's really important for young people who are interested in a career in health and social care to see what really goes on day in day out. The Treatment Room is a great place for them to start as there is so much variety in what we see each day.

"It also helps that we are located on a bus route here at Waters Meeting so that the students can easily get here.
The next placement for Ebbony will take her to the hospital where she will shadow the team on the E5 ward. After she's finished her programme at Bolton College she plans to move on to university then finally to her dream of being a paramedic.
I would definitely recommend the Healthcare T Level Student programme to anyone interested in working in healthcare – just do it. I've really enjoyed my time so far, and getting to see the different procedures and the hands on experience has been so helpful!
For more information about T Level healthcare courses available in Bolton, visit Bolton College's website.