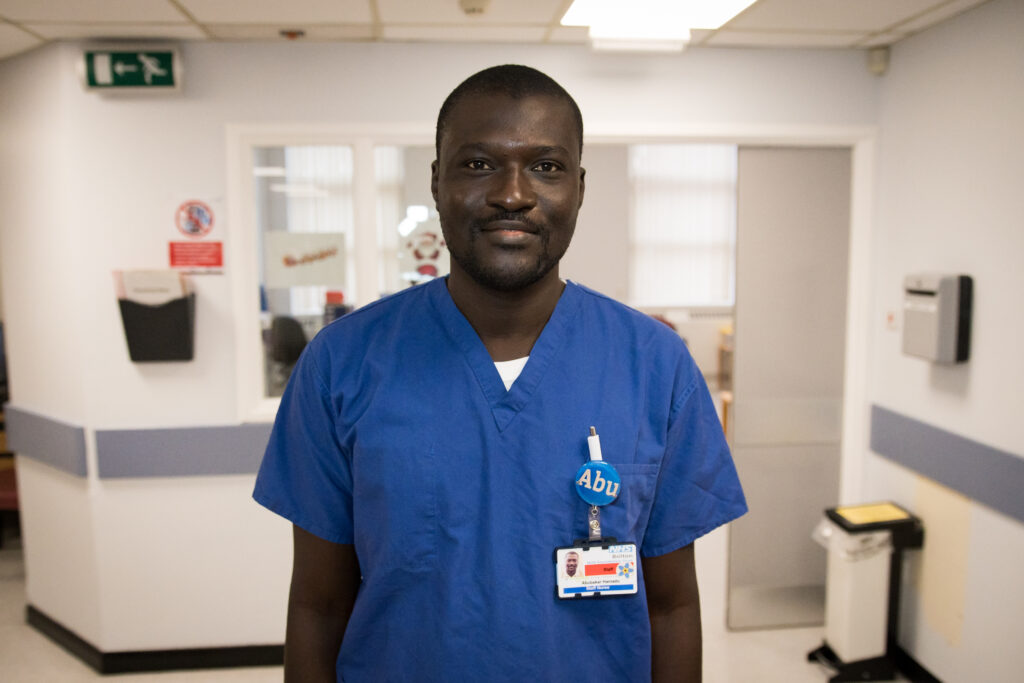 Abubakar Hamadu helping to improve lives in Bolton
Highly-qualified international nurse Abubakar progresses to new role at Bolton NHS Foundation Trust
150 international nurses have joined at Bolton NHS Foundation Trust
Abubakar Hamadu is leading the way for other international nurses following his promotion at Bolton NHS Foundation Trust.
A nurse with 11 years' experience and multiple qualifications in Nigeria, Abubakar joined Bolton's ophthalmology theatre team in August 2022 as a staff nurse but has already successfully progressed to become Clinical Practice Coordinator.
Abubakar said:
I was recruited as an International Nurse in April and arrived in the UK on 18 June 2022.

"I attended my OSCE training in Crewe, sat and passed my OSCE on 1 August then travelled the next day to Bolton and met the amazing, hard-working recruitment team (Becky, Vicky, Samantha and Sireen).
International nurses pass several exams in their home countries before they can be considered for their eight-week Objective Structured Clinical Examination (OSCE) training.
Before international nurses can become registered with the Nursing and Midwifery Council (NMC), they must pass their training course and final OSCE exam.
Abubakar saw an opportunity to progress with the Trust and following a discussion with his mentor, applied to become Clinical Practice Coordinator in the team.
He continued:
Being new to the department and Trust, and the only international applicant, I thought my chances of getting the job were slim.

"I'm grateful to the interview panel and Bolton NHS Foundation Trust for the fair recruitment and selection process in recognising my years of experience, skills, knowledge and potential as an international nurse.
Lizzi Moussa, Ophthalmology Matron at Bolton NHS Foundation Trust, said:
Abubakar has been a brilliant addition to our team and we are so happy he chose to come to Bolton to help make a difference to our community.

"No matter our backgrounds, we all share the same NHS values and strive to provide the highest levels of care for our patients.
150 international nurses have been recruited since 2021 by Bolton NHS Foundation Trust's international recruitment team.
Vicky Fletcher-Simm, International Recruitment Lead at Bolton NHS Foundation Trust, said:
It's great to see one of our international nurses succeed in promotion so soon in their journey with us in Bolton.

"Abubakar's skillset from Nigeria is a true testament to the adaptability that our international nurses bring into practice.

"We are incredibly proud of Abubakar, and all of our international nurses, and the true commitment they bring to the Bolton family.
Abubakar added:
I'd like to inspire and motivate other internationally trained nurses that it is possible for us to progress here in Bolton NHS Foundation Trust and the NHS in UK with hard work, commitment and determination.
Make a difference to your community by joining Bolton's team.