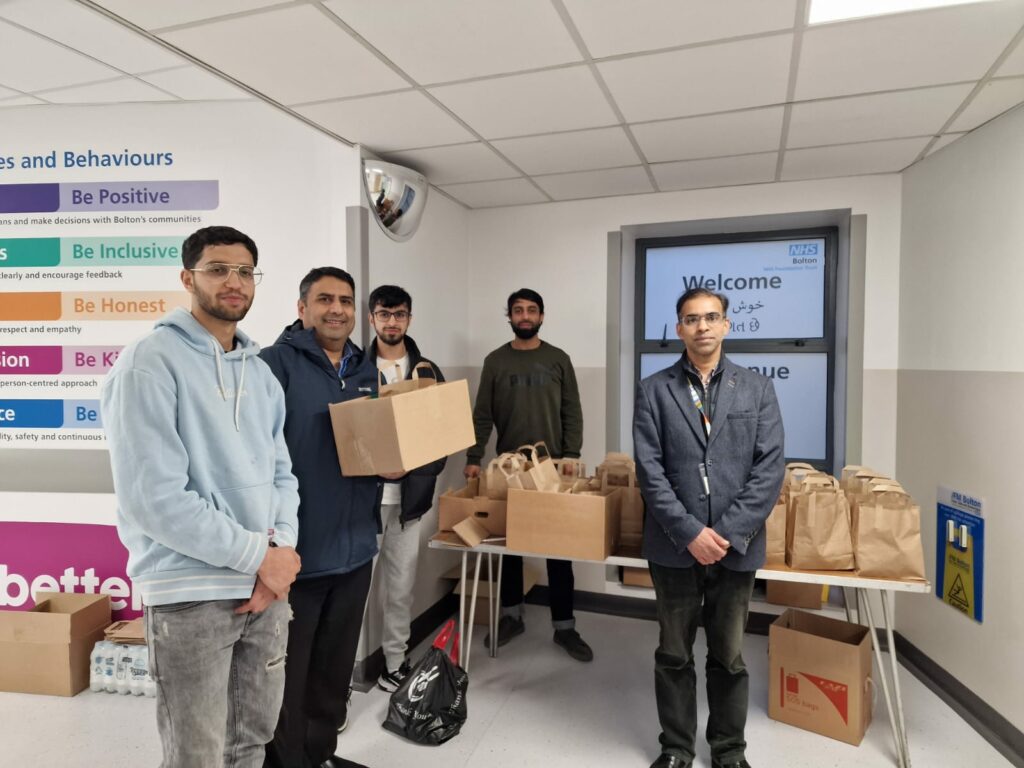 A community group has delivered dozens of fresh Iftar meals to staff, patients and families at Royal Bolton Hospital to bring people together during Ramadan.
'Hospital Iftars' was set up in the North West to make sure that those who mark Ramadan continue to feel included in the fast-breaking evening meal during their hospital stay.
The Iftar meals contain dates, starters, mains, deserts and fresh fruit and water which was all generously provided by Bolton-based Fazila Foods Ltd.
Nasir Afzal and Zakir Ghachi from Hospital Iftars, said:
The idea was to create the kind of ambience and atmosphere in our local hospital where staff and patients' families can come together to share time together and to breaks their fasts together during Ramadan.

"Having volunteered in other hospitals, myself and Zakir found the work and giving back to the community to be very warm and fulfilling, and we very much wanted to replicate this at Bolton.
Fazila Malek from Fazila Food Ltd, who provided the packs, said:
We're proud to support the Community Iftar project. As a company that was set up over 20 years ago, we feel it's our way of giving back to the local community.

"Ramadan is also a period of giving and so this was the perfect way of showing our appreciation to the hard working hospital staff that give so much day in day out.
A total of 65 packs were distributed to wards across the hospital, with a further 20 packs handed out in patient waiting areas.
Abdul Goni, Charity Engagement Coordinator at Our Bolton NHS Charity, said:
It's absolutely amazing to see the Bolton community supporting staff and patients in this way during the month of Ramadan.

Thank you to Hospital Iftars and Fazila Foods Ltd from everyone at the Royal Bolton Hospital.
This Eid, Our Bolton NHS Charity have created personalised digital celebration cards which can be sent to friends, colleagues and loved ones.
To get involved:
Make a donation (suggested £2) to Our Bolton NHS Charity via their JustGiving page.
Send proof of donation to charity@boltonft.nhs.uk with the chosen greeting colour (midnight/emerald/green/black) and personalisation (up to 60 characters).
Receive your personalised digital card by email within two working days.
Share with your friends, colleagues and loved ones this Eid.