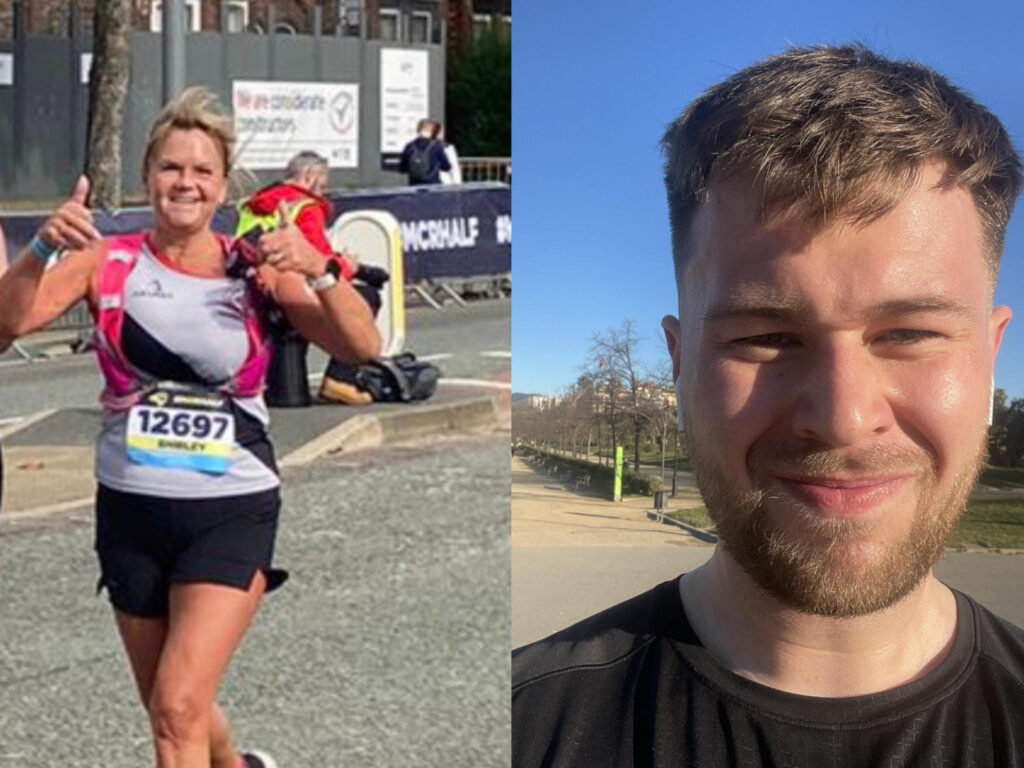 Fundraisers in Bolton are preparing to take on the Manchester Marathon with the hope of raising hundreds of pounds for Our Bolton NHS Charity.
Alex Greenhalgh and Shirley Robinson are amongst the thousands of runners setting themselves the 26.2-mile challenge when it returns this Sunday (16 April).
Alex will be running the marathon in memory of his mum, Zoe, who tragically passed away when he was aged two following a short battle with cancer.
Zoe was a champion for organ donation and became the face of a campaign that encouraged more people to speak openly about their donation wishes with loved ones and sign up to the donor register.
Now, more than 20 years on, Alex and his family are continuing that legacy by raising money for Our Bolton NHS Charity so that it can be invested in specialist organ donation training for staff at Bolton NHS Foundation Trust.
Alex said:
I feel ready for the race as I've been keeping up with my training plan. It's my first marathon so the focus is to cross the finish line rather than set any record times.

"I'm no born athlete so it's going to be a huge challenge, my hope is to finish in less than five hours. I'll be excited to experience the atmosphere on the day as Manchester always turns out in such big numbers to offer that support from the sidelines.

"The money raised from the day will go towards education and training and that will be really meaningful by sharing understanding and setting up a base for knowledge that can be passed amongst others.

"We hope to raise awareness across Bolton where all nurses have an understanding to make it easier to have those conversations about donating organs after death.

"Donation can be heroic as you are giving people a better life after you have gone – one last act of kindness.
Shirley will be running her first ever marathon to raise funds for the Critical Care Unit and Royal Bolton Hospital, where staff saved the life of her best friend's son, Kieran, earlier this year.
Their care meant Kieran is now back at home with his family and well on the way to making a full recovery.
Shirley said taking on the Manchester Marathon is a way to show appreciation for the incredible support they received:
He was in hospital for seven weeks, including over Christmas and New Year, and I still feel emotional when I think about how poorly he was.

"The family couldn't have got through that difficult time without the staff in the unit, they looked after the whole family and took a real interest supporting them through it.

"I've been running for a while and really wanted to set myself a challenge to show my gratitude and thanks to the NHS. I'm both frightened and excited, but looking forward to the support of all the crowds who will be there on the day to cheer on those taking part.
Sarah Skinner, Charity Manager at Our Bolton NHS Charity, said:
We never underestimate the time, energy and motivation our supporters have to commit to training for an endurance event like the Manchester Marathon.

"Our heartfelt thanks go to both Alex and Shirley for choosing to fundraise in aid of Our Bolton NHS Charity. Although their reasons for running the marathon are very different, the funds they raise mean we can continue to improve the NHS experience for patients, service-users and their loved ones at Bolton NHS Foundation Trust.
To support Alex visit his Just Giving page and to support Shirley visit her Just Giving page.
Find out how to support Our Bolton NHS Charity on our website.