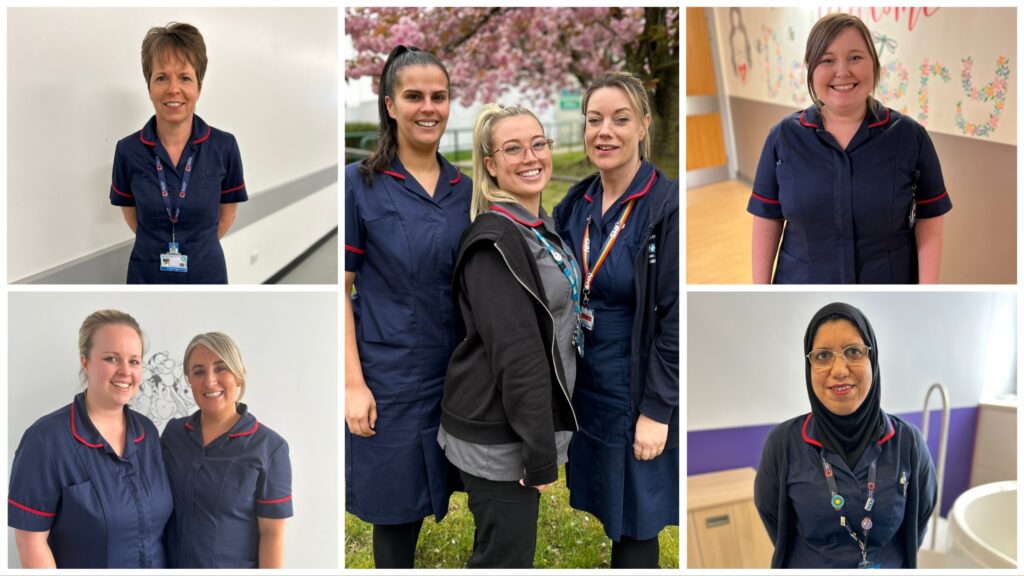 Midwives at Bolton NHS Foundation Trust are sharing what inspired them to join the NHS as the world celebrates their profession and their vital contribution to healthcare.
International Day of the Midwife 2023 is an annual event that recognises the work of midwives, support workers and students for the positive difference they make to the lives of families.
In Bolton, midwives helped to deliver more than 5,000 babies in 2022. That works out at approximately thirteen babies every single day.
Frances Ireland, Specialist Mental Health Midwife at Bolton NHS Foundation Trust, said:
I knew from a really early age that I wanted to be in the caring profession. Working with women and families through the perinatal period is so rewarding.

"I love that I get to work within an amazing team. Each day is different and it's so satisfying to receive the appreciation from women and know that we have made a difference.

"It can be a challenging career – but it's amazing and it's not just about the delivery suite as are so many different areas of midwifery that people can go into.
There are a number of specialties within midwifery that all provide important care and support to families before, during, and after pregnancy.
Waheeda Abbas, Specialist Liaison Cultural Midwife at Bolton NHS Foundation Trust, said:
I'd had such a fantastic midwife who really supported me, and she inspired me into wanting to become a midwife who can support women and make a difference to their health and wellbeing.

"The reason I chose my role is so that I can support pregnant people who are in diversity communities who have additional and complex needs, and be in their world to improve their maternal health.

"If you want a challenging but rewarding career where you can make a difference to people's lives then this is the career for you.
Lauren Goddard is the Trust's Saving Babies Lives and Fetal Monitoring Lead Midwife, starting in the NHS in 2007:
It was during this time that I had my first taste of maternity services and the care that they provide. I was inspired by the midwives and the passion they had to advocate for women and their families at one of the most important times of their lives.

"I then knew that I wanted to become a midwife.

"I feel passionate that the women we care for should receive the best quality care we can possibly offer and this is what motivates me within my role – and I am always learning something new.
In the past twelve months, families have found special ways of showing their gratitude to midwives in Bolton.
Families have also passed on their messages of thanks through Bolton Maternity Voices, who have shared their feedback through a short video that features photographs of the children then and now.
One mum said in the video: "We'd like to say thank you to our midwife, Imogen, she literally saved my life. We never got to say thank you."
Janet Cotton, Director of Midwifery at Bolton NHS Foundation Trust, said:
Being a midwife is such a privilege as we join families during such important milestones of their lives. It is such a pleasure to be in the position to positively influence change for our women, families and staff.

"I am so proud of all of our midwife teams for the positive difference they make and I want to thank them for continuing to deliver such compassionate care to our families every single day." To find your place as a midwife at Bolton, search the jobs section of our website.
View this post on Instagram
To find your place as a midwife at Bolton, search the jobs section of our website.