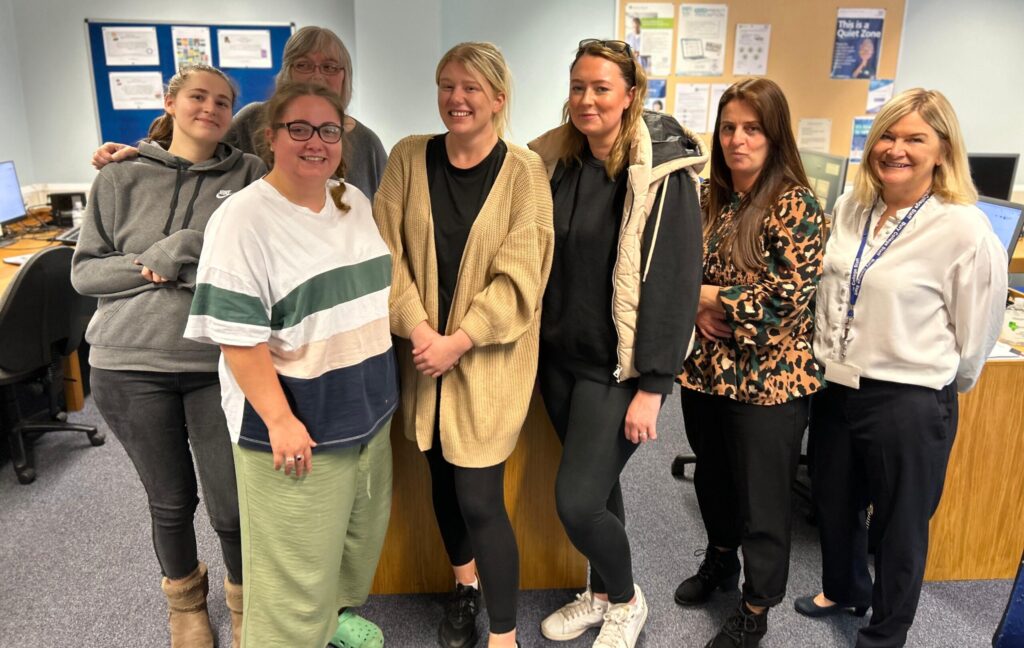 The first group of recruits for Bolton NHS Foundation Trust's Health Care Assistant apprenticeship have started in their new roles on the wards of Royal Bolton Hospital.
Six apprentices took their first steps into the NHS in July, providing vital support to nurses, doctors and clinicians across surgery and acute wards, with another three set to join in the next few weeks.
More than 100 applications were received when the pilot apprenticeship launched in March 2023, with an offer of hands-on experience in a healthcare setting and monthly learning sessions with a tutor at Bury College.
Laura Consterdine, Apprentice Health Care Assistant (HCA), is now in the third week of her apprenticeship. Based on A4 Ward, Laura's already enjoying the difference she's able to make.
My role is all about personal care, so getting patients up in a morning, making sure creams are applied, offering food and drink – just being a friendly face.

"Making someone smile is so rewarding. It's the little things like making a cup of tea if a patient is having a bad day.
Before joining the NHS, Laura spent time working in an autism and mental health hospital and providing community care to dementia patients.
I really wanted to get into the NHS because my end goal is to be a mental health nurse. I thought this was a great opportunity to study and get the qualifications I need.
"You're working and learning as you go"
We get six hours for study each week, and then once a month we go to Bury College. It's been brilliant so far, and really interesting getting to know the different areas. People have been really welcoming and friendly too which has helped me ease in to hospital life.
Joining Laura is Sophie Harvey, a new Apprentice Health Care Assistant, who is working on the surgical ward, G4, where she is supporting patients with broken or fractured bones.
I'm really enjoying it, I've worked in care for five years but with dementia patients in care homes, so the clinical side of this course is all new.

"It's great to be able to spend so much time with patients and feel like I'm making a difference. There's a great team spirit and all of the staff have been really welcoming and supportive.

"Day-to-day I'm able to focus on my own tasks and use my own initiative. I'm really keen to get as much hands-on experience as I can, it's the way I learn best.

"The practical and clinical side of the apprenticeship was one of the benefits that attracted me to the course. I had been looking for a way to get my foot into the door of the NHS so I'm looking forward to what I'll learn and to continue my career development at Bolton."
While Sophie has her sights on the future, she's already gaining a new-found confidence and skill set.
In my previous job I felt I'd gone as far as I could, whereas in the NHS I can make a career and go down the nursing route by applying to become a Trainee Nursing Associate (TNA). I feel like I have a lot of opportunities in front of me now.

"Working in healthcare has helped me to find myself. I used to be a really quiet person, but now I'm throwing myself into tasks and it's building by confidence day by day.
Tyrone Roberts, Chief Nurse at Bolton NHS Foundation Trust, said:
Our Health Care Assistants are a vital part of our workforce, supporting our nursing and ward teams and providing excellent care for our patients.

"To be able to recruit HCAs as apprentices is a really exciting opportunity for people to get workplace experience, valuable learning time, and to start a wonderful career in the NHS in Bolton.
A second cohort of HCA apprentices were recruited in July and there are plans to release further vacancies for the course in late 2023.