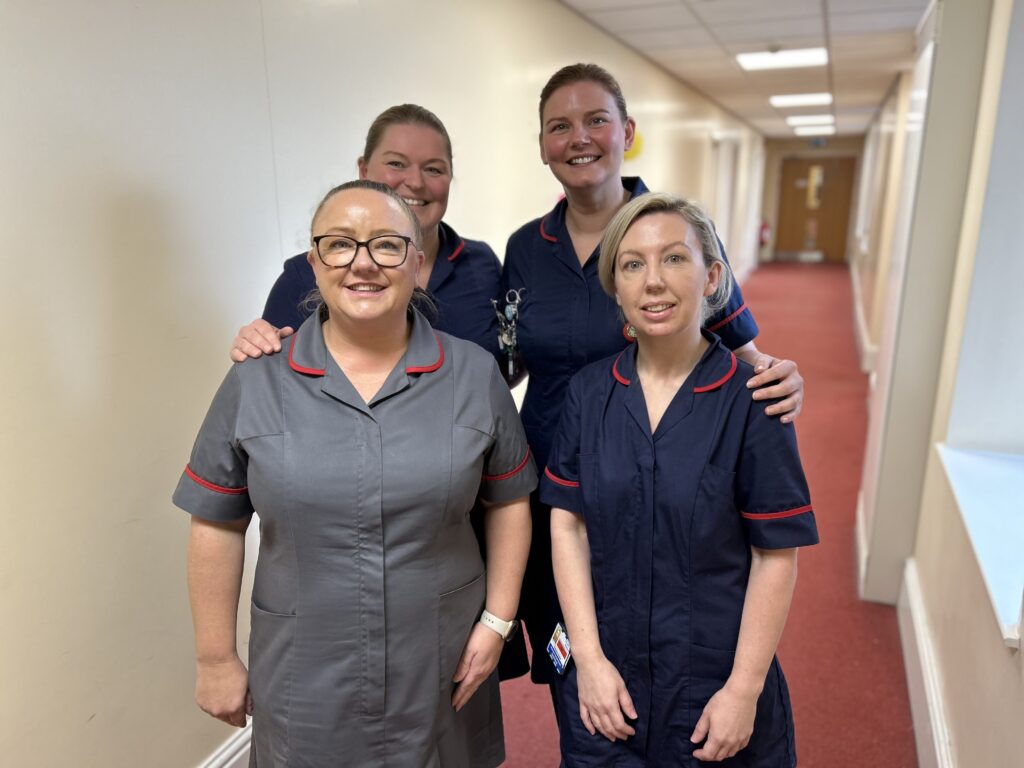 Nursing-led IV Access team supports almost 400 patients in first year of service
Specialist nurses work with patients who have difficult access to veins for medication and fluids
Service aims to improve comfort and safety for patients
A specialist nursing team at Royal Bolton Hospital is supporting hundreds of patients who have difficult access to veins for medication and fluids.
Since forming in November 2022, 390 patients have received care from the hospital's Intravenous (IV) Access team, who use ultrasound technology to identify whether a patient has a suitable access point to receive medicine or fluids directly into a vein.
The team of four aim to improve the comfort, experience and safety for patients by reducing the likelihood of infection and bringing down the number of days people need to spend in hospital.
Previously, patients with complex vascular access needed to wait for theatre slots to receive an IV line; however, the new service allows for bedside care and has reduced the average wait in hospital by four days.
It is vital to understand how patients feel about any changes made to services and the feedback received so far has been 100% positive. Patients are asked to complete a feedback form in their in their own time, following their interaction with the service.
Below are just some of the comments received from patients:
"The PICC line is much better and I feel much happier that I don't have to have any more needles."
"Wonderful service, nurses were professional and helped me remain calm throughout."
"Special mention to the team – absolutely fabulous."
"Can't praise the service enough."
"Amazing asset to the NHS."
Philip Henry, Operational Business Manager for Diagnostics & Support at Bolton NHS Foundation Trust, said:
The IV Access team have been instrumental in improving patient experience whilst supporting colleagues with their skills and knowledge development. What they have achieved in twelve months is remarkable.

"The feedback from patients speaks for itself and is a testament to the team. However enabling patients to receive treatment more readily in their own home, avoiding admission to hospital and being a key enabler in additional theatre lists being available for those awaiting surgery, demonstrates the wider scale impact the team has had.
Other benefits of the service include:
Training for staff and enhancing standards
Improved recovery times
Consistent reduction in infections rates
Releasing anaesthetic staff to carry out additional theatre lists, resulting in up to three additional patients on orthopaedic waiting lists being treated every week
Heather Briscoe, Lead IV Access Specialist Nurse at Bolton NHS Foundation Trust, said:
This service is making a huge difference to the physical and mental wellbeing of our patients.

"Many of these patients will have previously had a bad experience of receiving cannulas so are understandably nervous when we first arrive at their bedside. It's our job to put them at ease by explaining how the process uses ultrasound and that we'll only proceed if we can. Every time you can see the relief on their face.
Tracy Phillips, IV Access Specialist Nurse at the Trust, said:
Our aim is to empower patients with the knowledge to look after themselves and making them expert patients so they are able to challenge when something doesn't feel right.