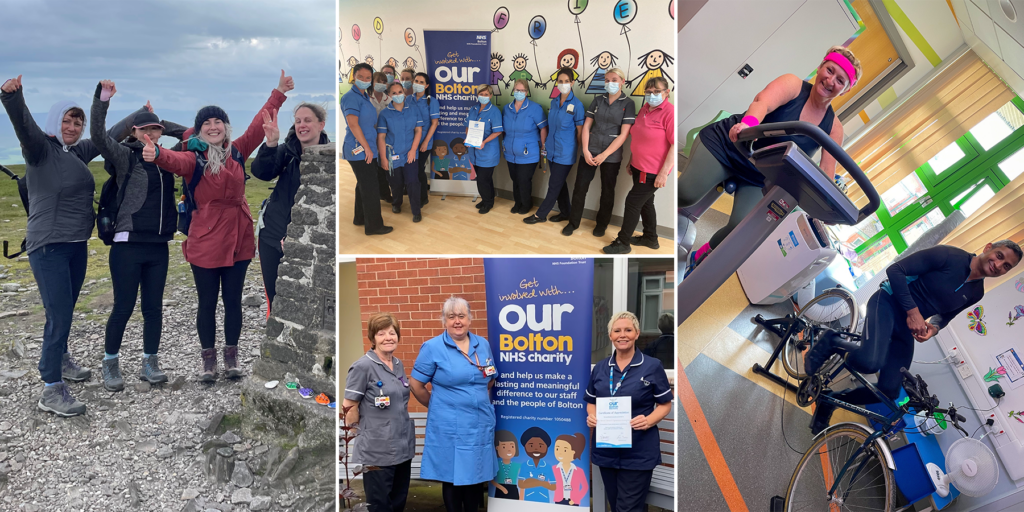 Staff 'cycle' to London, walk the Yorkshire three peaks and host glitter ball
Money will be used to help patients and staff
Staff at Bolton NHS Foundation Trust have raised more than £10,000 for Our Bolton NHS Charity.
Three separate fundraising events during May and June raised a grand total of £10,800.
Bolton's Breast Services team organised a Breast Glitter Ball, which took place at the Holiday Inn Bolton Centre and raised £8,030.
The funds raised are being used, amongst other things, to buy mastectomy bras for patients, post-surgery.
Bolton is the only Trust to provide the bras free of charge to patients in Greater Manchester.
Andrea McCann, Breast Services Unit Manager at Bolton NHS Foundation Trust, said:
The glitter ball was absolutely wonderful and everyone had a really good time.

"I think because of COVID-19, everyone just let themselves relax and have a good dance on the dancefloor.

"Thank you to everyone who came, it was lovely to see so many patients and colleagues there and thank you especially to my colleague Annette Trengove for her hard work organising.
The Health Improvement team on Bolton's children ward 'cycled' more than 260 miles, as well as hosted a bake sale, to raise funds to improve the ward for patients, their families and staff.
Doctors, nurses, physios and support staff cycled on exercise bikes from Bolton to the Florence Nightingale statue in London (and a little bit further), raising £2,060.
Jayne Simpson, Practice Educator at Bolton NHS Foundation Trust, said:
We are astounded by the generosity of everyone who has donated.

"A huge thank you to each and every one of you, the support was really appreciated!
Members of the Trust's Strategy and Transformation Team raised money for Our Bolton NHS Charity by taking on the Yorkshire Three Peaks challenge.
In challenging conditions, the team completed the 24 miles in 13.5 hours and raised £790.
Amy Blackburn, Head of Communications at Bolton NHS Foundation Trust, said:
What a day! Thank you so much to everyone for all the support and sponsorship, and to all those who kept us going when we were struggling.
Sarah Skinner, Charity Manager at Our Bolton NHS Charity, said:
I am so proud of all my colleagues for putting in such hard work, dedication and effort into raising money to help other people.

"Thank you so much for all you do and know that all your endeavours will be used to enhance the care of patients at Bolton NHS Foundation Trust.
Find out more about Our Bolton NHS Charity and how you can fundraise on their website.