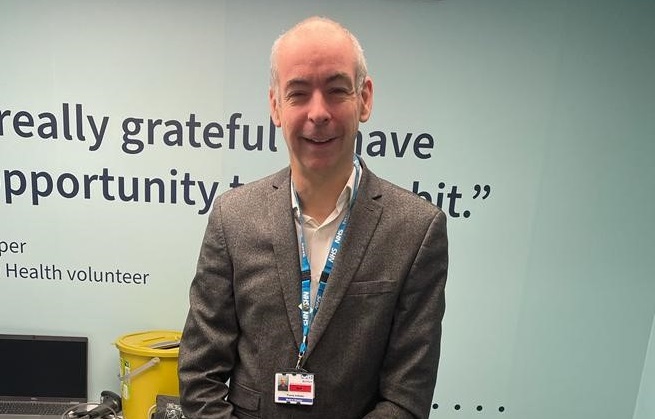 Bolton NHS Foundation Trust's Medical Director has volunteered his time for a new health research programme that "has the potential to revolutionise healthcare" at Royal Bolton Hospital.
Dr Francis Andrews gave up his time to take part in Our Future Health which, in partnership with the NHS, is recruiting a community of volunteers to collect vital information.
The data aims to help researchers find ways to prevent, detect and treat diseases earlier.
Earlier this month, Dr Andrews attended an appointment to provide a small sample of blood and had some physical measurements taken.
Dr Frances Andrews, Medical Director at Bolton NHS Foundation Trust, said:
It requires very little effort to join Our Future Health, but the data collected – which is kept secure and anonymised – will be incredibly helpful.

"It will allow us to detect disease much earlier than we can do at the moment, offer new treatments when they are detected, and lead to better health outcomes.

"This programme has the potential to revolutionise the healthcare at this hospital. I can't overemphasise that.
People across Bolton are able to sign up to take part in Our Future Health, including people with pre-existing health conditions.
Dr Andrews added:
By taking part in this programme, you're helping yourself, your family, your friends and your community in a way we have never been able to before.

"In my role as an A&E doctor I see a lot of patients, who have experienced the very serious effects of diabetes, cancer, of circulatory and respiratory diseases, and of mental health too. Often, they're diagnosed at very late stages, so they have severe life-threatening complications when they arrive at A&E.

"If we're able to diagnose these conditions much earlier, or able to understand who is at risk of developing these conditions much earlier, we can avoid serious complications by diagnosing and intervening earlier.
Taking part in the Our Future Health programme also offers volunteers the opportunity to learn more about their own health.
At my appointment today, I had my blood pressure checked and had it been high, I could have been directed to intervention by my GP to stop anything more severe developing. I had my cholesterol levels checked too – so again, if there had been a problem, I would have been pointed towards further healthcare."

"I've been given a lot of information that's really helpful in future-proofing my own health.
'A golden opportunity'
Dr Andrews also said the research will play an important part in building a true representation of the nation's health by reaching out to all communities so that everyone can benefit from advances in healthcare.
"This is a golden opportunity to help those less represented in health research," said Dr Andrews.
The local population being so diverse has led to a greater curiosity about why it is that we have different rates of health problems among different sections of the population. For example, we know that some ethnic minority populations have much higher instances of cardiovascular disease and diabetes.

"If we can get a good data set that's representative of Bolton's population, we will learn much more about how to improve everyone's health. It's a very exciting time.
More information about Our Future Health, including how to volunteers, can be found on their website.