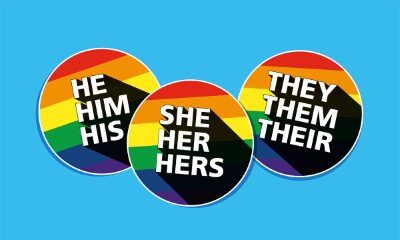 Staff at Bolton NHS Foundation Trust are being given the choice to wear gender pronoun badges in a significant move to create an even more inclusive space for staff, patients and visitors.
The new badges aim to raise awareness of an individuals preferred pronouns and prevent misgendering, which can cause hurt, upset and feelings of isolation.
It's hoped the badges will encourage people to open up about their own pronouns and to discuss other issues they might be facing.
James Mawrey, Deputy Chief Executive and Chief People Officer at Bolton NHS Foundation Trust, said:
We want all of our staff and patients to feel valued and supported, no matter where they work or visit.

"Wearing a pronoun badge is a small ask, but something that will mean a great deal to other people and marks an important move towards real inclusivity.

"At times we can make assumptions about someone's gender, and normalising the sharing of pronouns reduces the burden on individuals to continuously explain their identity.

"This will create a healthier, safer space that encourages a culture of respect and acceptance.
Staff pronouns will be displayed on the national #hellomynameis badges, which promote the importance of introductions and the relationship between patients and staff.
The first set of pronoun badges will be rolled out in February as the Trust celebrates LGBT+ History Month.