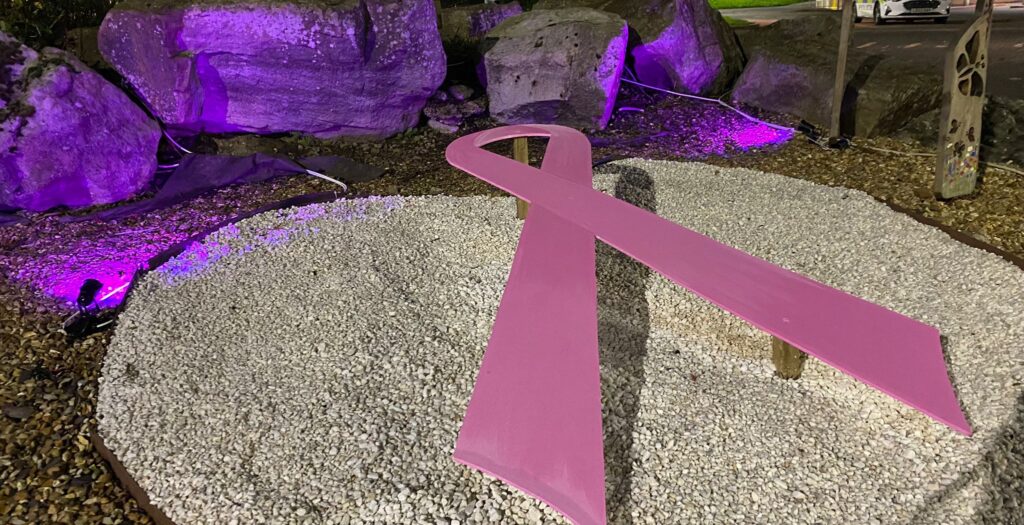 Royal Bolton Hospital and Bolton Town Hall to light up pink for Breast Cancer Awareness Month
Handcrafted pink ribbon installed on hospital roundabout
Fundraiser launched by Our Bolton NHS Charity for hospital's Breast Services
Royal Bolton Hospital is to be lit up in pink throughout October as Bolton NHS Foundation Trust marks Breast Cancer Awareness Month.
Bolton Council will also be lighting the Town Hall in pink to help raise awareness of the most common cancer in the UK.
Royal Bolton Hospital offers a wide-range of high quality services for all patients with breast problems and is the centre for Bolton, Bury and Rochdale Breast Screening Programme.
2023 has seen the hospital named a centre of excellence in breast cancer care as one of only two Trusts in the UK to be marked as a 'Centre of Excellence' due to the use of specialist technology to locate, remove and stage breast cancer, without the need for wires or nuclear medicine.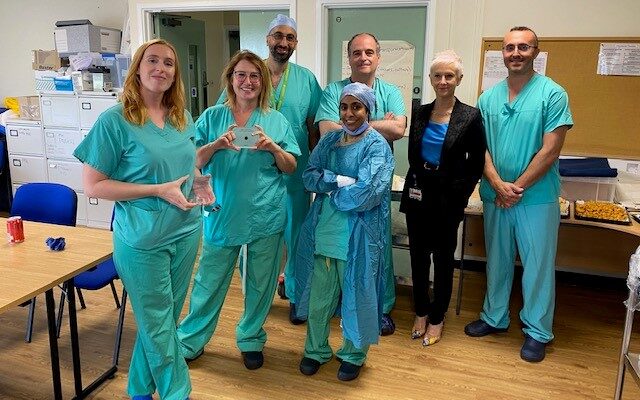 Naomi Duff, Cancer Screening Improvement Lead at Bolton NHS Foundation Trust, said:
Our patients are at the heart of everything within the Bolton, Bury and Rochdale breast screening programme based at the Sunflower Suite, with 3 satellite sites in Radcliffe, Rochdale and Bolton One.

"We are raising awareness of the importance of attending routine breast screening appointments.

"Anyone registered at their GP as female between the ages of 50 and 71 will be invited automatically. Breast screening uses a breast X-ray, called a mammogram, which looks for cancer that may be too small to see or feel.

"It is important to carry out breast checks monthly and if you notice anything that doesn't feel normal for you or see any changes to contact your GP.
Janet Willcock from Bury, was diagnosed with breast cancer in December 2022 after she took up her invite for a routine mammogram appointment, which potentially saved her life.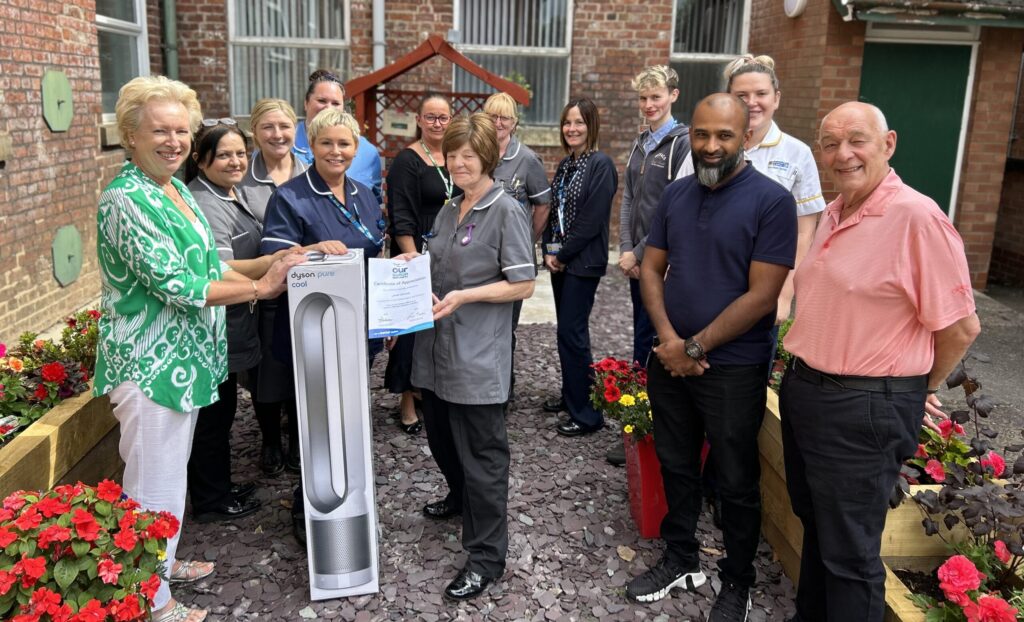 To show her gratitude to staff at Bolton Breast Unit for their "phenomenal" care and support, Janet donated a Dyson Pure Cool fan for the Breast Unit waiting room, through Our Bolton NHS Charity, to improve comfort for patients and their loved ones.
Janet said:
I was touched by the care I received, that's why I wanted to donate something that could be benefit everybody, and for it to be something tangible. It's the little things that can make your whole journey a lot more comfortable.
Our Bolton NHS Charity has funded this October's Breast Cancer Awareness campaign, which includes external lighting outside the breast unit and the main entrance, and a handcrafted ribbon of support at the main roundabout.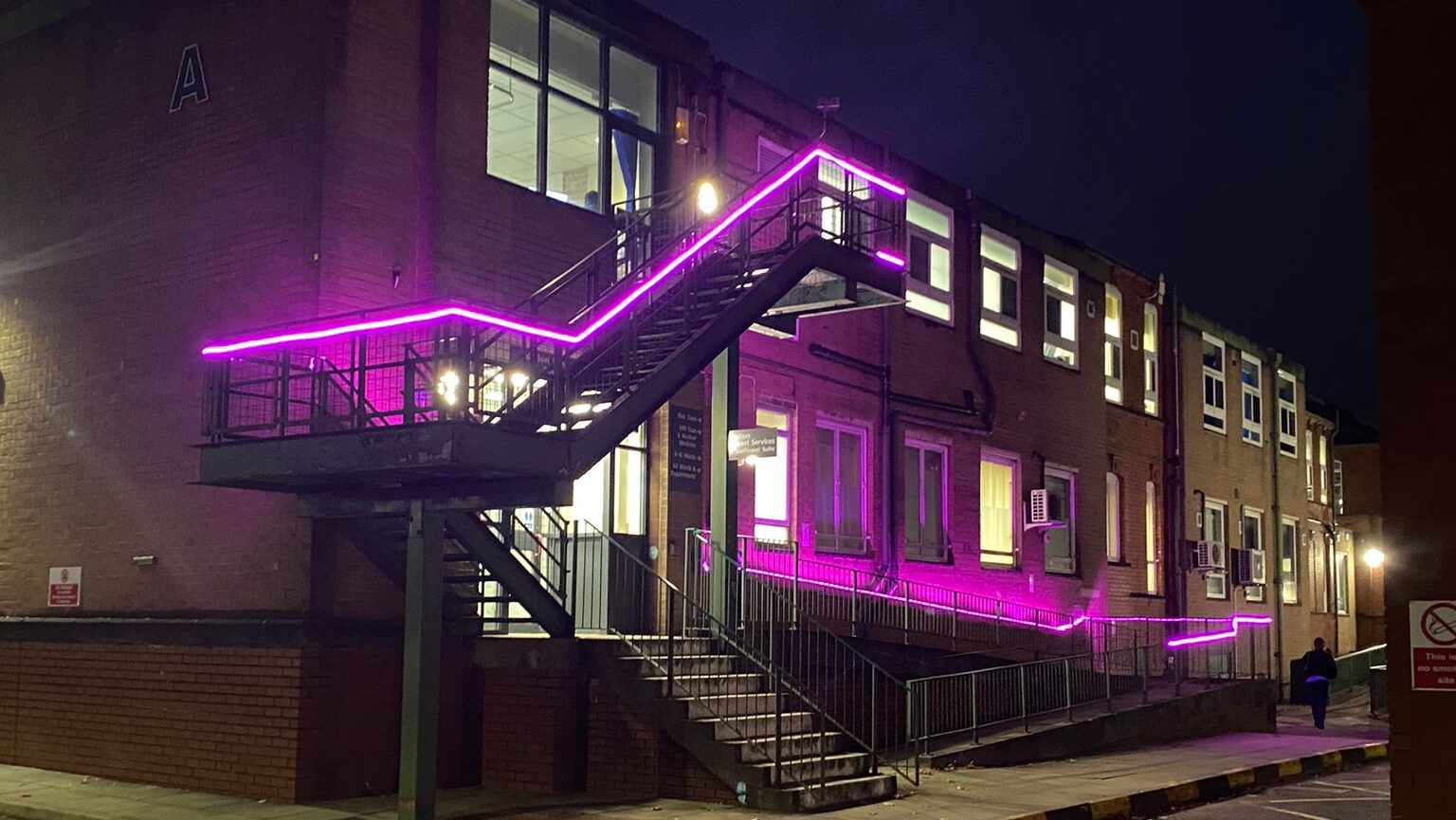 The work behind the campaign was completed by iFM Bolton, who are responsible for the facilities management services for the Trust.
Staff at the hospital will also be invited to 'Wear it Pink' on Friday 20 October to raise awareness of the symptoms of breast cancer and highlight the importance of routine breast screening.
Alongside the Trust's awareness campaign, a fundraiser has been launched to raise funds for Breast Services at the hospital.
How to donate
If people would like to get involved, they can text PINK to 70490 to donate £5. Alternatively, they can donate a different amount by adding a number between 1 and 20 after the word PINK. For example, text PINK10 to donate £10. Texts cost the chosen donation amount plus one standard-rate message and will appear on phone bills or be deducted from credit.
All funds raised by the text code will support local efforts to raise awareness and to improve the experience of breast cancer patients receiving care and treatment from Bolton NHS Foundation Trust.
Sarah Skinner, Our Bolton NHS Charity Manager, said:
We are thrilled to be able to offer our support throughout Breast Cancer Awareness Month and we are incredibly grateful to everyone who takes the time to either donate, or share the cause with their loved ones.
Find out more about the work of Our Bolton NHS Charity on the Trust's website.